Dr Kavita discusses about Good Lab Practices, Importance of Pathology and Impact of Digitalization on Medical Pathology and much more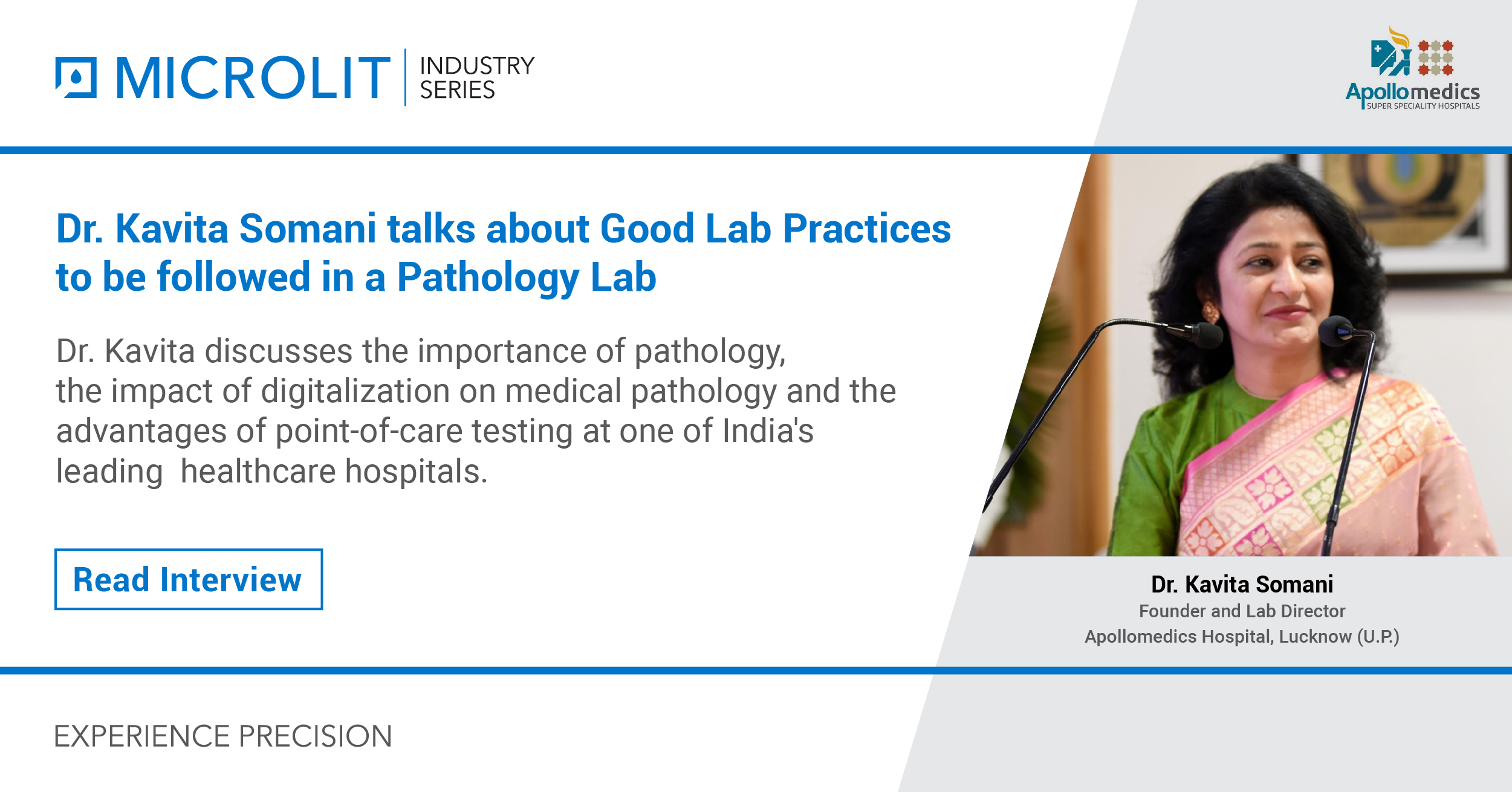 Team Microlit had the chance to interact with Dr Kavita Somani, Founder and Director as well as the Chief Consultant and Lab Director at Apollomedics Hospital, Lucknow (UP). We asked her several questions during our interaction regarding her role, milestone projects and her rich experience in the healthcare sector.
Apollo Hospitals was established in 1983 by Dr Prathap C Reddy, renowned as the architect of modern healthcare in India. As the nation's first corporate hospital, Apollo Hospitals is acclaimed for pioneering the private healthcare revolution in the country. Apollo Hospitals has emerged as Asia's foremost integrated healthcare services provider and has a robust presence across the healthcare ecosystem, including Hospitals, Pharmacies, Primary Care & Diagnostic Clinics and several retail health models. Apollo's vision for the next phase of development is to 'Touch a Billion Lives'.
Apollomedics Super Speciality Hospital is located in the heart of Uttar Pradesh, in the city of Lucknow. Apollomedics Super Speciality Hospital is a 330-bedded quaternary care hospital with state-of-the-art modern healthcare facilities. The hospital aims to provide comprehensive, seamless & integrated world-class healthcare services. Apollo Hospitals in collaboration with Medics Super Speciality Hospital formed Apollomedics which is a major boost to healthcare infrastructure in the State of Uttar Pradesh.
---
Team Microlit: Let's begin by sharing your academic qualifications and professional work experience till date.
Dr Kavita Somani: I'm Dr Kavita Somani, a postgraduate from the Department of Pathology of King George Medical University, Lucknow (a gold medalist; 1999 batch). I worked initially in the Department of Pathology at Mahaveer Vardhman Medical College and at Safdarjung Hospital in New Delhi.
I've established a modern diagnostic 24 x 7; the first of its kind in the city of Lucknow. I have worked as Laboratory Head of this modernized pathology laboratory situated in the heart of the city, for the past 15 years.
Running the Lab and ensuring its success has necessitated a great deal of diligence and hard work on my part, which has given me the assurance and command to oversee a larger laboratory at Apollomedics Hospital with a wider range of tests and higher standards of excellence. We guarantee continual advancement and adopt a system that is based on quality control for laboratory tests which generate accurate results for patients.
---
Team Microlit: How did you get associated with Apollomedics Hospital, Lucknow?
Dr Kavita Somani: I'm one of the founding members of the Apollomedics Hospital . I was associated with Apollomedics even before it became Apollomedics and was by the name of Medics International Lifesciences Ltd.
---
Team Microlit: That was great to know, please share some details about your role at Apollomedics Hospital, Lucknow.
Dr Kavita Somani: I am the Founder and Director of Apollomedics Hospital, Lucknow. Along with it, I head the Department of Lab Medicine as the Chief Consultant and Lab Director. My positions define my administrative role in both the hospital as well as the Lab along with my role of consultant pathology; with patient service and pathology reporting being my primary aim and passion.
As Laboratory Director, I am responsible for the overall operation and administration of the laboratory, including the employment of competently qualified personnel. The laboratory focuses on comprehensive and coordinated efforts to achieve accurate, reliable and timely testing services.
In just four years, our team has achieved NABH and NABL certifications. We hope to gain even more accreditations in the near future.
---
Team Microlit: How many team members are a part of the Pathology department of Apollomedics Hospital, Lucknow?
Dr Kavita Somani: We have around 65 people in our Laboratory –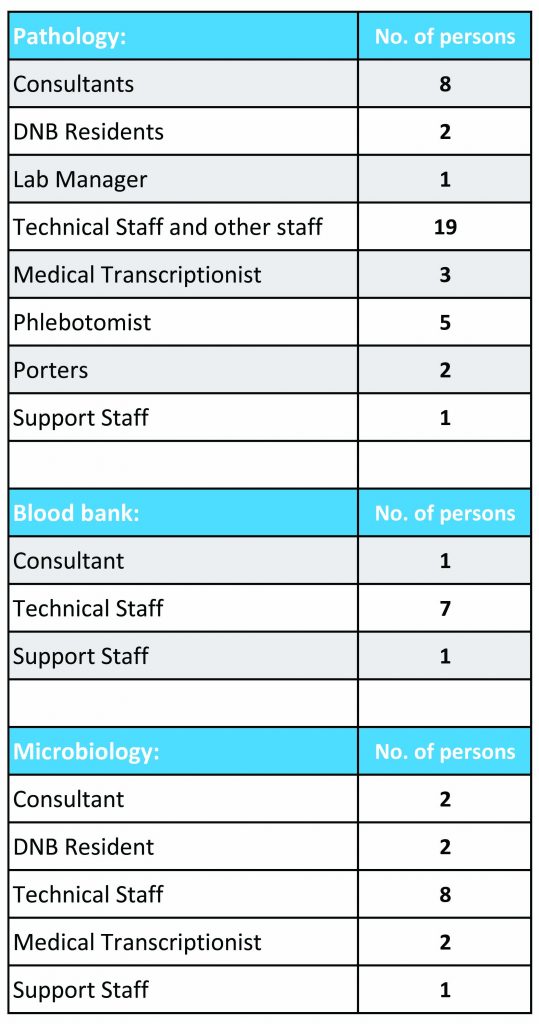 ---
Team Microlit: What is your management style?
Dr Kavita Somani: My charismatic management style is aimed at creating a friendly, open atmosphere in the Lab. I try to employ a very democratic and collaborative management style and strive to ensure that everyone feels heard and respected, so that we can work together as a team. I also keep an eye out for when someone needs assistance, and regularly check in with my staff to make sure they are doing well and meeting deadlines. As a Lab Director, I'm committed to making sure we serve in a timely manner with the highest quality.
I also ensure that:
Testing systems in the Laboratory provide quality services in all aspects of test performance.
Physical and environmental conditions of the laboratory are adequate and appropriate for the testing to be performed.
Ongoing monitoring of each testing process used in your laboratory in order to identify errors or potential problems that could result in errors.
Taking corrective action and evaluating the corrective actions taken to make sure that they were effective and will prevent a recurrence.
---
Team Microlit: Pathology is an important stream of Life Sciences and Healthcare. Please share your thoughts on the same.
Dr Kavita Somani: Pathology is a branch of medical science primarily concerning the cause, origin and nature of the disease. It involves the examination of tissues, organs, bodily fluids and autopsies in order to study and diagnose disease. They use their expertise to support every aspect of healthcare, from guiding doctors on the right way to treat common diseases, to using cutting-edge genetic technologies to treat patients with life-threatening conditions.
The rapid and accurate delivery of test reports within the designated turnaround time, helps clinicians to give quality patient care services. Pathology is the backbone of each medical setup. A pathologist is a medical doctor with a dedication to studying the causes, indicators, cures and effects of various diseases. Pathologists play a critical role in research, advancing medicine and devising new treatments to fight viruses, infections and diseases like cancer.
---
Team Microlit: What are the key Good Lab Practices which must be followed in a Pathology Lab?
Dr Kavita Somani: We suggest to follow all the below Good Lab Practices –
Appropriate testing facility and organization personnel
Up-to-date Quality Assurance Programme
Proper Facilities; Separate place allocation for tests, storage and reporting
Apparatus, Material and Reagent: Documented inspection, cleaning maintenance and calibration of instruments. Reagents and solutions, labelled to indicate identity, expiry and storage instructions.
Standard Operating Procedure (SOP) defined to carry out protocol-specified activities
Reporting of Study Results for Quality assurance programme statement
Storage and Retention of Records and Material (Maintenance and Calibration data)
Routine Audits
Regular Training of Staff
Comprehensive Laboratory Safety
Efficient Spill Management System
No deviation from Infection Control Policies
---
Team Microlit: What changes Covid-19 has brought in front of the global healthcare fraternity? How was Apollomedics impacted?
Dr Kavita Somani: The Covid-19 pandemic was initially a setback for all of us; just like the whole world. However, our hospital took off and served well; at first, as a non-Covid hospital. We provided standard health care services to all the non-Covid patients who were not receiving adequate patient care at other centres.
During Covid-19, we set up a 100-bed independent Covid ward with ICU services for Covid-19 patients and served Covid as well as non-Covid patients with dedicated patient care. We survived the pandemic and rendered appreciable and adept patient care, with the employment of extra staff, in contrary to other numerous big foundations who were laying off their employees during that tenure. We faced this challenging situation with great valour and came out with flying colours.
---
Team Microlit: In your department, has any major improvement/upgradation been carried out, or planned for future?
Dr Kavita Somani: In this short span of four years, we have constantly worked hard to upgrade the Laboratory and increase the number and span of tests. In addition to biochemistry, basic haematology, cytopathology and histopathology. We have strived to acquire newer tests and techniques like immunochemistry, Bone Marrow evaluation, HPLC, immunofluorescence, immunohistochemistry (widening the panel each year), flow cytometry and multiple myeloma lab. The Laboratory focuses on comprehensive and coordinated efforts to achieve accurate, reliable and timely testing services. We have started a Stat Lab for rapid delivery of reports to emergency cases.
---
Team Microlit: How digitalization has impacted medical pathology and its related processes?
Dr Kavita Somani: Digitalization has certainly improved our field, in a positive way. However, it is only an enhancement of our practice. Digitalization has assisted us with quicker testing, quicker delivery of reports/reviews and digital pathology consultation from other facilities for complex cases. It enables us to streamline laboratory processes with little or no errors due to manual methods. Nevertheless, the role of a pathologist cannot be challenged as the ultimate confirmation is still carried out by practising pathologists.
---
Team Microlit: Please tell us something about the importance of Point-Of-Care testing. On similar lines of other companies, Is Apollomedics also planning to launch its own POCT services or devices in future?
Dr Kavita Somani: Point-of-care testing (POCT), also called near-patient testing or bedside testing, is defined as medical diagnostic testing at or near the point of care—that is, at the time and place of patient care. This contrasts with the historical pattern in which testing was wholly or mostly confined to the medical laboratory.
As a part of POCT testing, we have established a successfully running Stat lab with limited availability of bedside tests, like glucose, urine dipstick, blood ammonia and arterial blood gas analysis.
---
Team Microlit: Which all lab instruments are being used by Apollomedics to carry out pathology testing?
Dr Kavita Somani: We use various instruments ranging from Cyto Centrifuge, Gel card centrifuge, Slide warming table, Tissue processor, Grossing station, Microscope, Microtome, Micropipettes including Microlit RBO fixed and variable volume micropipettes, Bacterial incubator, Plasma expressor, Platelet agitator with incubator, Tube Sealers with accessories and many more.
---
Team Microlit: Please share a message for young aspirants who aim to build their career in the Pathology field?
Dr Kavita Somani: Pathology is a significant field in modern medical diagnosis and medical research. We study the disease and the disease process. As a practicing good pathologist, lifelong association with medical books and constant upgradation of knowledge is the key. We are the detectives of the medical field, based on which clinicians are able to provide adept patient care. I wish the youngsters opt for this ever-growing pathology field wherein the diagnosis is carried out and solutions are presented to a variety of complex growing issues, especially after the pandemic.