Research Journey with Microlit Scitus : ACRHEM, University of Hyderabad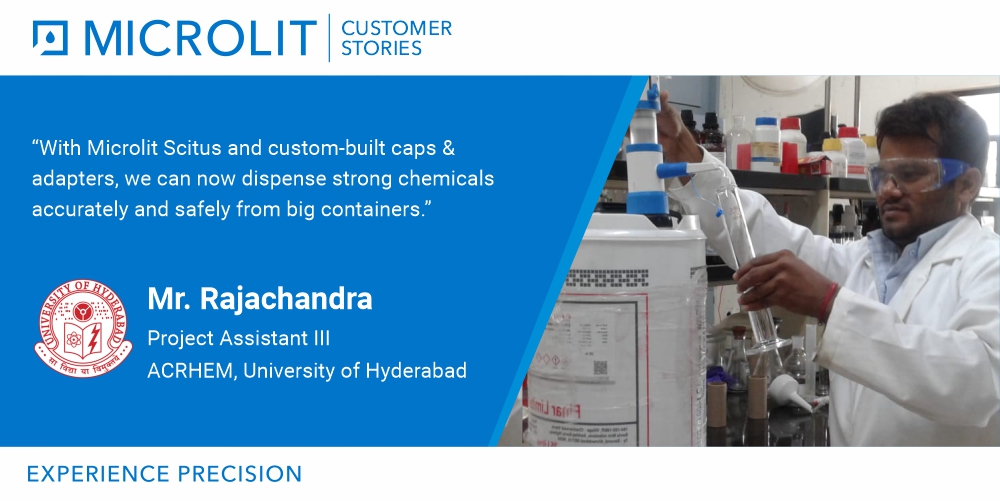 About University of Hyderabad
Founded in 1974, University of Hyderabad (UoH) houses 5,000 students and 400 faculty members from various disciplines. It is one of the most  prominent institutions in the country for higher studies. The university is renowned for its postgraduate courses as well as its excellence in research work.
Honoured with numerous awards and distinguished certifications, the University of Hyderabad (UoH) is a member of the Association of Indian Universities (AIU) and the Association of Commonwealth Universities (ACU). It has been ranked 63 among top 100 young universities by Nature Index in 2019. Coincidentally, it is the only Indian university to secure a rank in this list.

Microlit's Association with the University – 2.5 Years and Growing
The researchers at Advanced Centre of Research in High Energy Materials (ACRHEM), University of Hyderabad use Microlit Scitus for dispensing chemicals used in making explosives.
Microlit Scitus is a Bottle Top Dispenser (BTD) that offers a simple, cost-effective blend of sophisticated features and functionality. Built by our in-house team of product design engineers, it uses Springless Valve™- an award-winning technology that ensures smooth functioning.
Microlit Scitus also features two product innovations: EasyKnob™ and FlexiNozzle™ that enhance its ease of use and flexibility. Designed with ergonomics and intuitive handling in mind, it exhibits excellent chemical compatibility and helps in achieving precision with reliability in practical laboratory environments. It is widely used in industries like Pharma, F&B, Life Sciences, etc.
ACRHEM, University of Hyderabad – Laboratory Insight
Microlit Scitus is used to retrieve strong chemicals from huge containers which, if done manually, would have been a tough task for researchers & lab professionals.
The chemicals they work with include strong acids, bases, solvents, etc. which are used in making explosives.
Enhancing Efficiency with Custom-made Solution
Keeping in mind the sensitivity of the research work, Microlit went a step ahead and provided customized caps along with adapters to help the team dispense strong chemicals accurately and safely from big containers.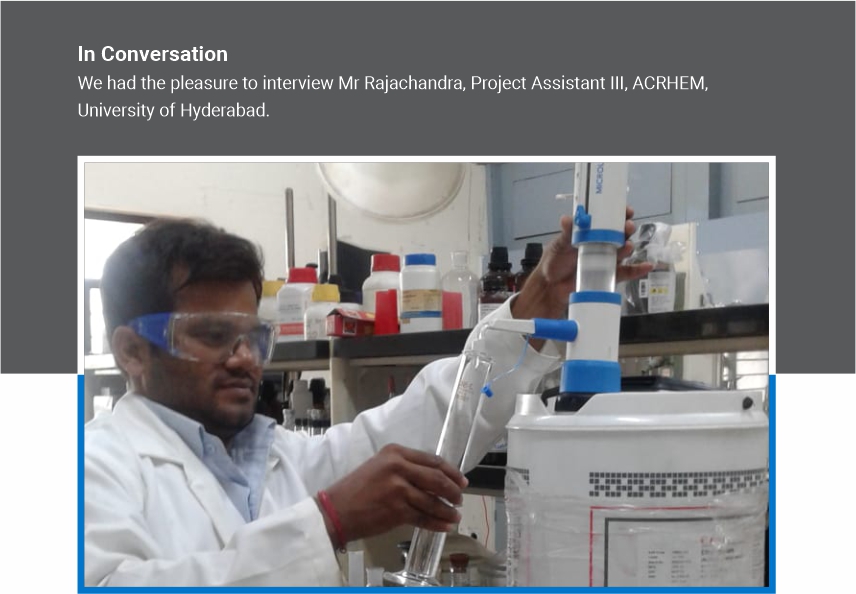 Team Microlit: Mr Rajachandra, it's our pleasure to converse with you today and know about your work at the University of Hyderabad. Can you please share with us the nature of research projects that you take on?
Mr Rajachandra: I work at ACRHEM, a DRDO Centre of Excellence at University of Hyderabad, as a Project Assistant. We work in close collaboration with the Defence Research and Development Organisation (DRDO) and High Energy Materials Research Laboratory (HEMRL), Pune. The HEMRL sends in their requirements and then we test accordingly. Our work revolves around high-energy materials like RDX and other explosives.
---
Team Microlit: Which chemicals do you usually work with?
Mr Rajachandra: The chemicals that we test are used for making explosives. They include strong acids, bases, solvents etc., like Nitric acid and Hydrochloric acid.
---
Team Microlit: What was the reason for you to start using Microlit Scitus?
Mr Rajachandra: Up until now, we were not using any dispensing instruments in our lab. Working without them was proving to be inconvenient and time-consuming. We are glad that we decided to use Microlit Scitus because it is not only convenient and provides accurate readings but also ensures safety. It is saving us a lot of time and improving our efficiency.
---
Team Microlit: What problems/challenges did Microlit Scitus solve for you?
Mr Rajachandra: Before the introduction of Microlit Scitus in our department, we poured chemicals manually from huge containers. Naturally, the process was not convenient, owing to the size of the containers. Considering the nature of the chemicals that we work with (strong acids, bases, etc.), the risk involved was also high. Spilling is a big safety hazard and causes wastage of chemicals. With the introduction of Microlit Scitus in our lab, we have started saving so much time! The added benefit is that the readings now are much more accurate and precise than they were earlier.
---
Team Microlit: Are you satisfied with Microlit Scitus?
Mr Rajachandra: Yes, our experience with Microlit Scitus has been very satisfactory. It is easy to operate, improves our productivity and helps us to be accurate & precise.
---
Team Microlit: In your opinion, how durable is Microlit Scitus?
Mr Rajachandra: Microlit Scitus is quite durable and requires service only occasionally.
---
Team Microlit: Would you recommend Microlit Scitus to other institutes and researchers looking for quality lab instruments? Why?
Mr Rajachandra: We would surely recommend our peers and partner labs to use Microlit Scitus. It has helped us speed up our processes and also improved our accuracy which is pivotal to the field we operate in.