What Goes Behind Making a High Precision Electronic Burette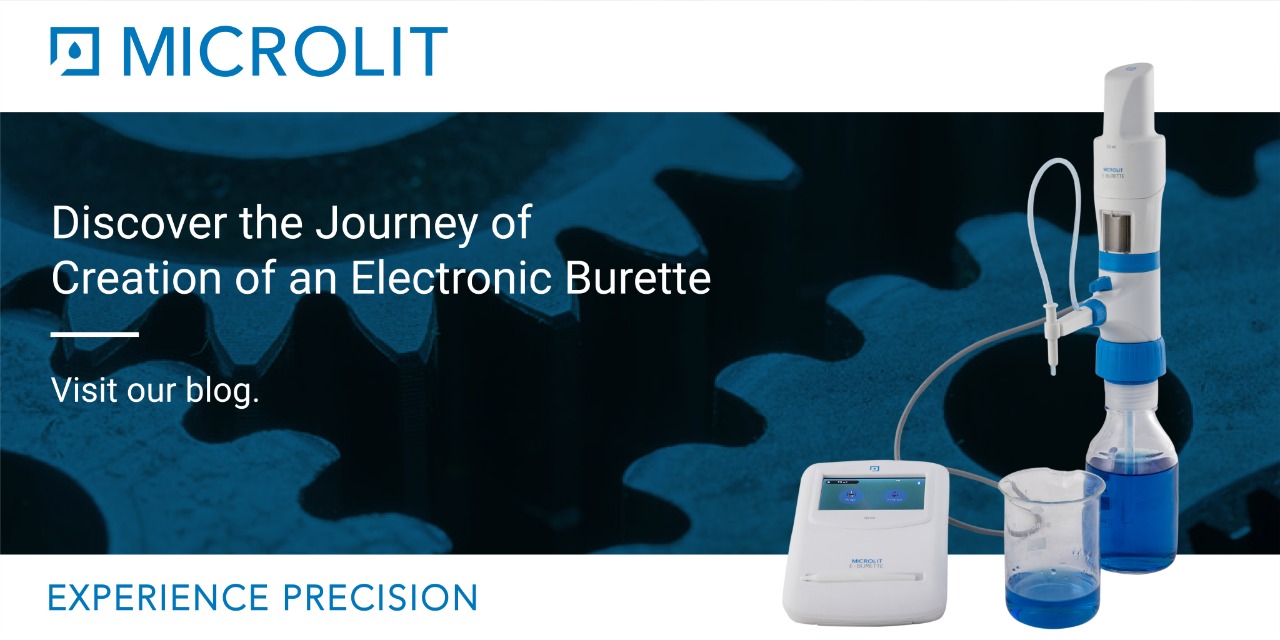 Honoured with the prestigious India Design Mark, Microlit E-Burette is an advanced motor-operated burette, designed keeping ergonomics and intuitive handling in mind. It offers various sophisticated features and functionality like motor-controlled piston movement, a touch screen enabled control panel with graphical user interface (GUI) and three calibrated pre-set speeds to perform automated and therefore, highly accurate titrations.
It's natural to assume that a high precision electronic burette like Microlit E-burette must have had a fascinating development story behind it. Today, we will delve into the same and understand the extensive research and effort that went into its making.
Outlining the Development Process of Microlit E-burette
1. Market Research and Analysis
Our product development begins with understanding the needs of the customer. Before executing a functional and aesthetic overhaul on any equipment or building a new one, Microlit undertakes a series of design and development activities that analyses market surveys and addresses customer requirements. The existing model is then improved or a new one is created with the right technological features in place.
For Microlit E-burette, we began by looking at the most commonly available titration instruments in the market – Glass Burettes and Digital Burettes.
What is titration?
Titration involves determining the concentration of a solution with the help of another solution with known concentration. Typically, the titrant (the known solution) is added using a burette to a known quantity of the analyte (the second solution) until the reaction is complete. Often, a visual indicator (buffer or pH solution) is used to signal the completion (end-point). Since the volume of the titrant is already known, one can easily determine the concentration of the analyte, using the formula of titration.
Commonly available burettes
• A glass burette is a low-cost instrument, used to carry out titrations for delivering measured volumes of a solution of known concentration. It is typically available in the form of a long, graduated glass tube with a tap and a stopcock at its lower end that controls the flow from the tube to the tip of the burette. There's a tapered capillary tube at the stopcock's outlet. The difference in the initial volume and the final volume of the solution in the burette reflects the amount of solution consumed.
• A digital burette is a relatively high-cost instrument with more sophisticated features than that of a glass burette. It can be connected to a computer and its titration readings can be saved on the same. In digital burettes, a high precision piston is used to deliver aliquots. While titrating, the barrel of a digital burette is held in a fixed position, and the plunger is moved incrementally in one direction manually by turning the knob. The volume gets displayed on a digital screen.
Our assessment of the two burettes.
We noted that both of these burettes provide readings, that more often than not, give unassured accuracy due to numerous factors. One common and major point that applies to both is the inaccuracy/inconsistency arising due to manual wheel operation. And, as mentioned in ISO 8655-6, Section 7.7.2, dispensing results are largely affected by the piston speed in all kinds of piston operated volumetric dispensing devices.
Common challenges associated with glass burette –
• Filling a glass burette: As noted above, a glass burette is typically a long, cylindrical tube. Manually pouring the titrant is inconvenient and might lead to spilling. It is also  time consuming as one needs to frequently check the quantity of titrant filled.
• Interpreting meniscus: Parallax errors are very common while working with glass burettes. It occurs when the scale of the burette is not viewed from a perpendicular position. Looking down on the meniscus causes it to appear higher than where it really is. Looking up at the meniscus causes it to appear lower than it really is.
• The dispensing speed near the end point: Since this has to be controlled manually, the chances of error in the end-point increase manifold.
Common challenges associated with digital burettes –
• Filling a digital burette: The procedure is tiresome and inconvenient as it involves repetitive manual wheel rotations.
• User-dependent piston movement: Inconsistent piston speed and/or incorrect volume dispensing near the end-point increase the chances of inaccuracy in the final reading.

Microlit's R& D team, therefore, planned to design a high precision electronic burette which can overcome all the challenges faced by glass and digital burettes.
2. Design & Development Planning
All the design & development activities are controlled by the Director – R&D. Every stage of this planning is adequately identified and brainstormed. A thorough market analysis, by Microlit's R&D team, takes care of all that goes into generating accurate readings. We take great care in collecting first-hand, real-time experiences from regular users of the existing equipment to ensure that requirements are addressed with every detail in check.
The designing stage for Microlit E-burette started with sketches that showed the adaptation of new technology, primarily catering to attaining an accurate & precise end-points in the titration experiment. Moulds and trial samples were then prepared and a performance test deemed the equipment fit for use.
3. The Optimum, Aesthetic Design Approach
The updated sketches and manufacturing processes of Microlit E-Burette factored in all its functional and performance requirements. Design & development outputs were provided in the form of final drawings, first sample and trial sample. The output was verified so as to satisfy the input requirements.
4. Final Product Testing and Result Validation
At all the design & development stages, there is a diligent review, verification and validation. Responsibility and authority for design & development work are determined, clearly mentioning the interfaces between the various groups involved to ensure effective communication and clear assignment of responsibility.
All the stages are suitably reviewed under the guidance of Director – R&D. These reviews include the identification of problems and necessary actions on them. The results of all such reviews are then recorded by the Director – R&D.
The verification is performed to ensure that the development outputs have met development inputs requirements. Records of the results of the verification & any necessary action are also maintained.
Microlit E-Burette made as per the design, was validated to fulfil the output requirements. The validation activities were completed prior to the delivery of the product to the labs. The results of all these validations were also recorded.
5. Control of Design & Development Changes
We recorded the design changes resulting from stage-wise reviews. We then moved on to incorporate these changes into the original design after suitable review and the impact of such changes on the final product. All the steps involved in changes, reviews and actions were also documented.
6. The New & Improved Solution
The automated and motorized Microlit E-Burette is an innovative design solution. The accuracy of E-Burette is higher than that offered by both digital and glass burettes. There is a negligible chance of human error due to automation of most of the work.
Its motor controlled piston movement, a new technology, eliminates the limitations of digital burettes and glass burettes that dispense manually. The user-friendly touchscreen guides quick and accurate titrations and displays numeric data up to the second decimal. It also offers the user a choice to work at pre-set speeds during titrations including dropwise dispensing which helps in achieving the endpoint with high accuracy, bringing down human error and making the instrument a 'Real Automated Motorized Burette'.
Exclusive and Advanced Design Features Offered by Microlit E-burette
(i) 3 Pre-set Speeds for Dispensing
• High Speed Dispensing: Dispenses at 2.20 ml/sec.
• Low Speed Dispensing: Dispenses at 0.75ml/sec.
• Dropwise Dispensing: Dispenses at 0.025 ml/sec.
The dropwise dispensing option is a remarkable feature of Microlit E-burette. When a user is about to reach the end-point of a titration experiment, s/he can opt for this mode to dispense droplets as small as 0.01 ml and record a highly accurate end-point. Please note that neither glass nor digital burettes can provide a controlled and consistent dropwise increment as low as 0.01 ml in volume.
(ii) Motor Controlled Piston Movement
The Motor Controlled Piston Movement of Microlit E-burette rules out the effort invested in manual wheel operation and hence, any inconsistencies arising due to the variation in its speed. This ensures high accuracy and precision.
(iii) Save Readings Conveniently
A user can save up to 20 readings (of a titration experiment) on the instrument memory of Microlit E-burette. These saved readings can also be transferred to a computer and printed directly. Further, these readings can be saved in the form of an excel sheet for further calculations and/or future reference.
(iv) One-Touch Filling
Unlike Glass and Digital Burettes where filling the instrument is inconvenient, time-consuming and involves manual work, in the case of Microlit E-burette, all you need to do is touch the Control Panel once to fill it automatically and effortlessly in less than 10 seconds.
(v) Digital Read-outs
Unlike Glass Burettes, where parallax errors are imminent, Microlit E-burette displays its readings on a digital screen which further brings down the scope of inaccuracy.
Visit our YouTube channel and catch Microlit E-burette in action