About BCKV
Established in 1974, Bidhan Chandra Krishi Viswavidyalaya (BCKV) or Bidhan Chandra Agricultural University is nearing 50 years as a pioneer in Agricultural Education, Research and Extension. Ranked 75 among top Indian universities by the National Institutional Ranking Framework (NIRF) in 2018, the institute offers remarkable facilities for the study of Agriculture, Horticulture and Agricultural Engineering. Its broader aim is to conduct research in these streams and undertake educational and extension programmes in agriculture for the rural clientele, keeping in view the requirements of the state of West Bengal, India.
Research – The Cornerstone of BCKV
Since its inception, one of the crucial pillars on which the institute thrives is research. With a top-notch faculty and a vision to impart plentiful knowledge about the best agricultural practices, BCKV is preparing researchers who can aid farmers and others in its client base, both at the national and international levels, to practice agriculture effectively.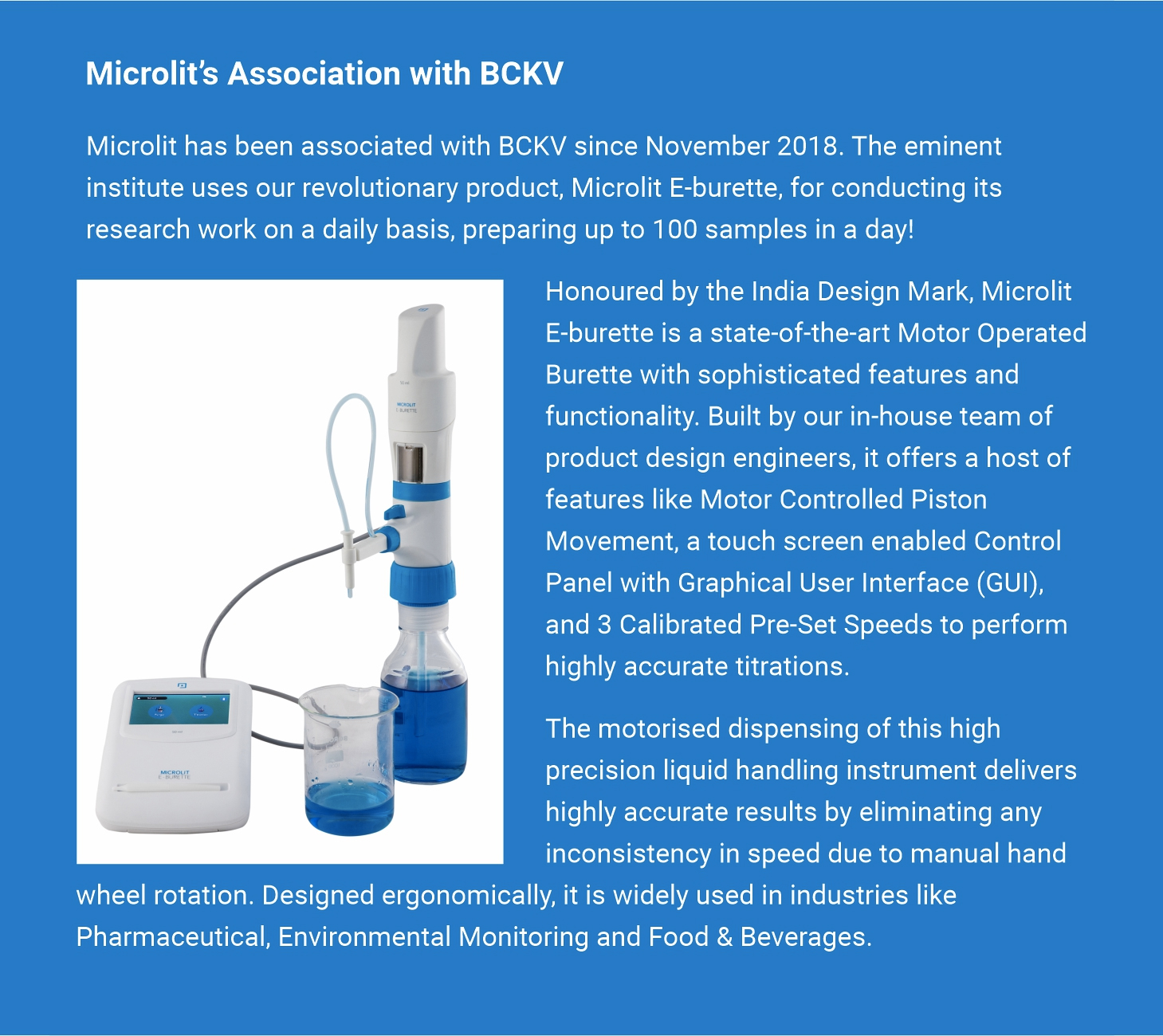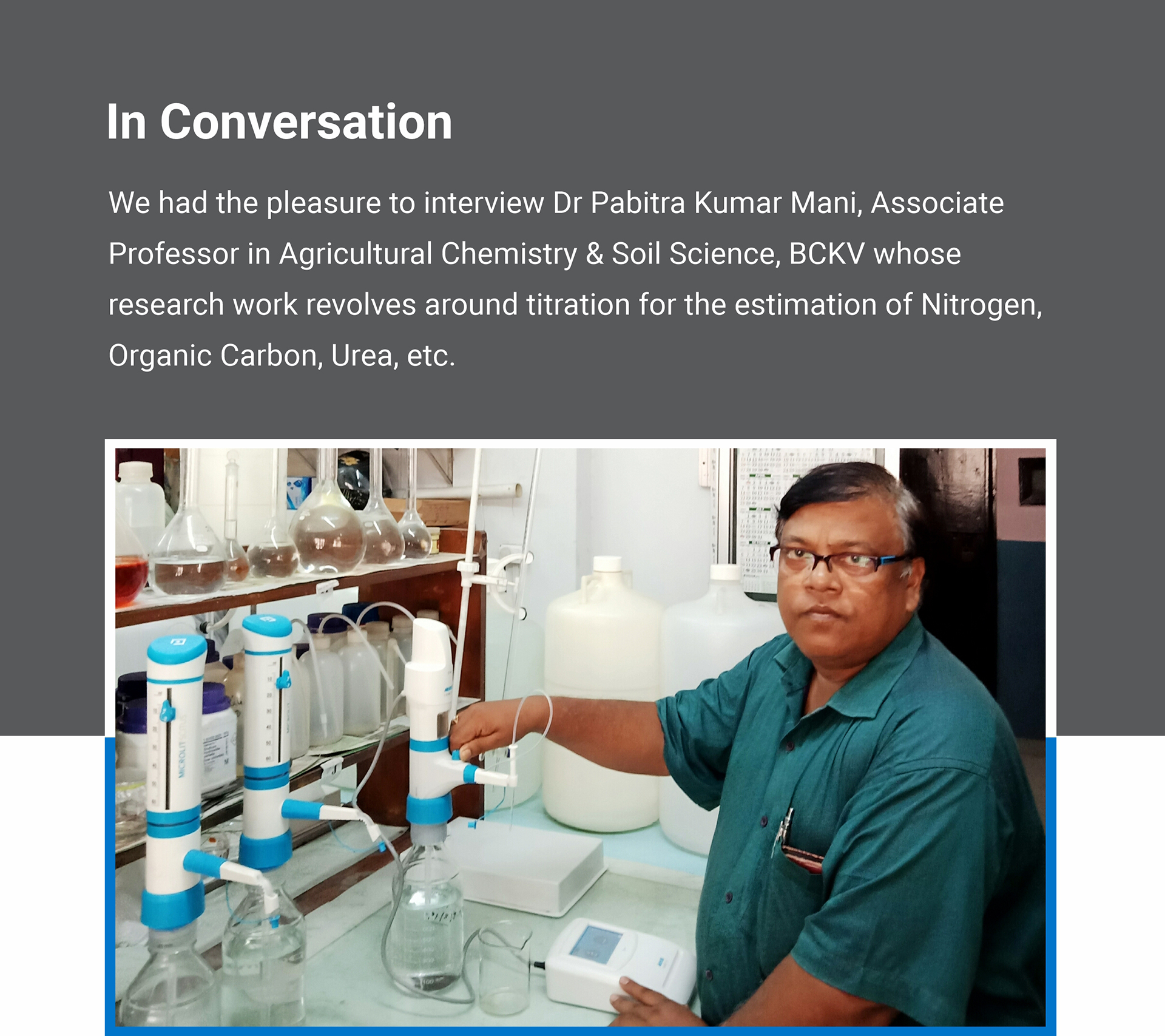 Team Microlit: Dr Mani, it's a pleasure for us to interview you today. Let's start by discussing a bit about BCKV. What are the university's aims & objectives?
Dr Mani: Likewise! So, Bidhan Chandra Krishi Vishwavidyalaya (BCKV) is an institute of repute that encourages Agricultural Education, Research, and Extension. Its primary aim is to conduct research in the fields of Agriculture, Horticulture and Agricultural Engineering and impart knowledge among the rural client base, focusing on the requirements of the state.
---
Team Microlit: For what purpose are you using Microlit E-Burette?
Dr Mani: We are using Microlit E-burette in our lab to determine the total organic carbon as well as the total Nitrogen present in the soil.
---
Team Microlit: Can you share some more details regarding an important study that you are undertaking with the help of Microlit E-burette?
Dr Mani: We are using Microlit E-burette to determine the Nitrogen Use Efficiency (NUE) of plants; it's the fraction of applied nitrogen that is absorbed and used by a plant. Plants need Nitrogen for healthy growth & development and get it from the soil. Farmers tend to use excessive fertilizers to replenish the soil with Nitrogen, thereby threatening the soil quality and/or damaging their crops. Our study helps us to determine the exact amount of Nitrogen that can affect the soil.
---
Team Microlit: How many samples do you handle in a day with Microlit E-Burette? What chemicals do you usually work with?
Dr Mani: On a daily basis, we take at least 100 samples. The main chemical that we use the instrument for is Sulfuric Acid (H2SO4 ). Other chemicals that we work with include 2 4 Hydrogen Chloride (HCl) and Orthophosphoric Acid (H3PO4 ).
---
Team Microlit: What problems/challenges did Microlit E-burette solve for you? What instrument(s) were you using before it?
Dr Mani: Well, Microlit E-burette has helped us in getting more accurate readings without any hassle. It gives precise & accurate readings and is extremely user-friendly. Before it, we were using a Digital Burette of another brand.
---
Team Microlit: What is the overall impact/advantage of using Microlit E-Burette?
Dr Mani: Overall, it has been extremely positive. Microlit E-burette is a cost-effective and time-saving instrument. With its mechanised control panel, researchers like us do not have to spend any time measuring the quantity of the chemicals we work with manually. In addition, this automated instrument has also increased the rate of accuracy of our studies and the results we get are more precise than ever.
---
Team Microlit: In your opinion, how durable is Microlit E-Burette?
Dr Mani: Quite durable. We have been using it for the last 10 months and till now haven't had any issues.
---
Team Microlit: Would you like to share any tips for other institutes and researchers looking for quality lab instruments?
Dr Mani: I will be happy to recommend Microlit E-burette to the people in my network; reason being, first, the instrument is completely motorised and hence saves a lot of time and makes the research work quick. Second, it helps to record accurate & precise values easily which in turn improves efficiency and productivity levels.
---