Chemical dispensing made easier in the gold refining process at Ditasi, Sudan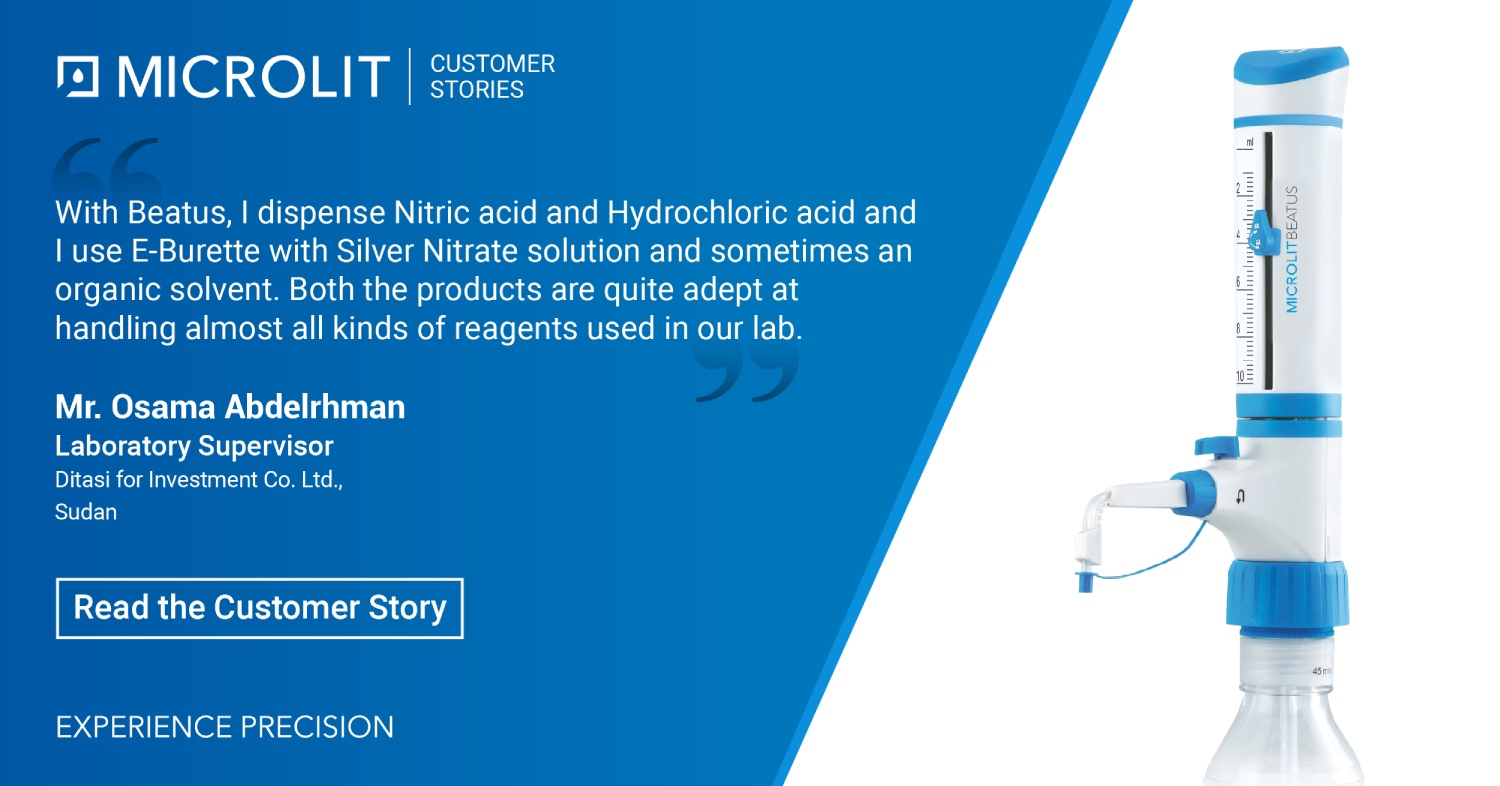 About Ditasi for Investment Co. Ltd.
Ditasi for Investment Co. Ltd. is located in the Northern state of Sudan. The company owns and manages mines and undertakes the extraction of gold and other minerals. The extracted gold is transformed into a mineralised form that serves economic benefits. The methods primarily used by the company for extraction include Heap Leaching and Carbon in Column (CIC) using Sodium Cyanide.
Microlit's Association with Ditasi for Investment Co. Ltd.
Ditasi has been a Microlit customer since 2020. The company is currently using two of our products – Beatus and E-Burette to carry out the process of gold extraction. Their continued usage has resulted in improved productivity and the generation of highly accurate results for the company.
Gold extraction at Ditasi at a glance
Beatus Bottle Top Dispenser is used to dispense Nitric Acid and Hydrochloric Acid to prepare aqua regia or 'Royal Water'.
Post the digestion process, E-Burette is used to retrieve an accurate amount from the organic solvent right before Atomic Absorption Spectrometry (AAS).
About Microlit Beatus Bottle Top Dispenser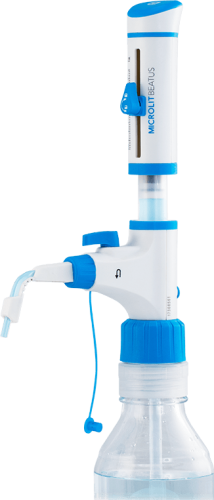 Microlit Beatus uses Springless Valve™, an award-winning technology, and a recirculation valve to prevent the loss of reagents during purging. It features two product innovations: EasyKnob™and FlexiNozzle™ that enhance ease of use and flexibility.
Designed with ergonomics and intuitive handling in mind, Beatus helps in achieving precision with reliability in practical lab environments. The presence of a PTFE piston makes it compatible with practically all the reagents used in a laboratory including strong acids like concentrated Nitric Acid, Hydrochloric Acid, Sulphuric Acid, etc. It is widely used in industries like pharmaceuticals, food & beverages, life sciences, etc.
About the Microlit E-Burette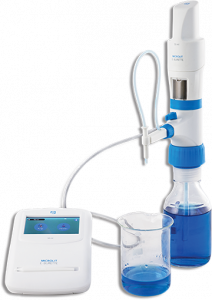 Designed with ergonomics and intuitive handling in mind, the Microlit E-Burette is a touch screen operated, motor controlled burette offering three different speeds of dispensing: fast, medium and dropwise.
Using the dropwise speed mode, users can accurately dispense a droplet as small as 10 microlitres. This helps in achieving a highly accurate end point. Other features like computer connectivity, one touch filling operation and the provision to store readings in the instrument memory make the E-Burette a very useful instrument to perform titration.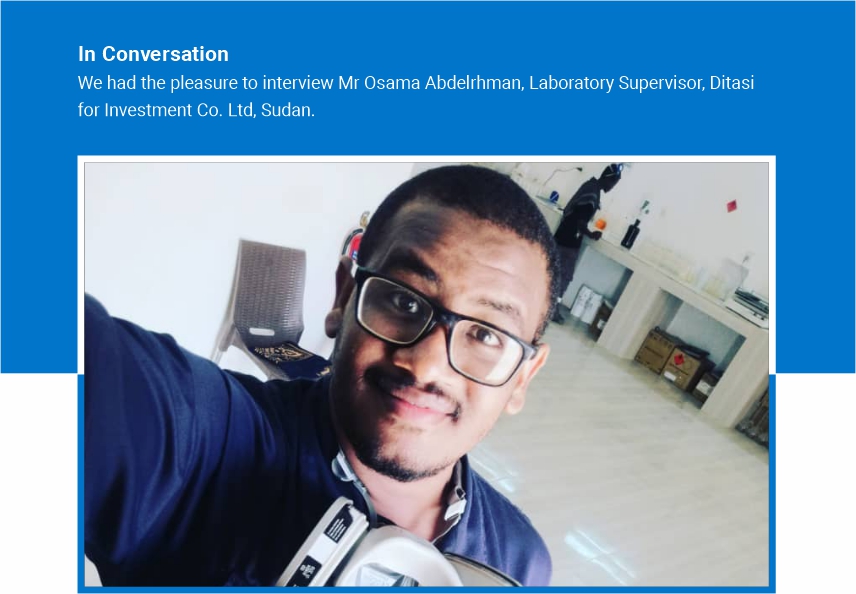 Team Microlit: Hello Mr. Abdelrhman, how are you doing today? Please tell us a little bit about you, your company and your role.
Mr Abdelrhman: Hello, I'm doing good, thank you. I'm currently employed with Ditasi for Investment Co. Ltd as a Lab Supervisor. The company specialises in the production and extraction of gold from its ore.
Team Microlit: What does a normal day in your lab life look like? Tell us about the routine test activities that you undertake.
Mr Abdelrhman: Well, before anything else, we have to ventilate the lab. It's a small yet significant task. Once that's done, we begin our day. We undertake a method called solvent extraction where we use a solvent to extract gold from the given samples – followed by atomic absorption reading.
First, a person collects two kinds of samples from the factory: solid and liquid. For the solid samples, we use an aqua regia solution, more commonly known as 'Royal Water'. It is a mixture of Hydrochloric Acid and Nitric Acid. We dispense both the acids with Beatus. Once the digestion process is complete, we add an accurate amount from the organic solvent using E-Burette and finish it with an Atomic Absorption Spectrometer (AAS).
The daily activities at our lab include:
Determination of gold (Au) and other elements by AAS
pH measurements
Determination of Sodium Cyanide concentration in solid and liquid samples
Determination of the moisture content
Gold purity test
Team Microlit: Well, that sounds like quite a day! Mr Abdelrhman, tell us why is it important to find out the concentration of other elements, besides gold, in an ore? How do you do it?
Mr Abdelrhman: See, gold is a rare element; it's found in trace quantities as compared to other metals. So, we need to know what other elements may contaminate it and what is the percentage of contamination. We calculate the concentration of such elements in a given sample with the help of an atomic spectroscopy instrument in our lab.
Team Microlit: As a Lab Supervisor, how crucial is it for you to have the right tools to conduct your studies?
Mr Abdelrhman: Extremely important! My job is to deal with weights and volumes daily, and if I don't have the right set of tools handy, I won't be able to do my job accurately.
Team Microlit: That's true! So, what kind of chemicals do you usually work with?
Mr Abdelrhman: I mainly work with inorganic acids like Hydrochloric Acid, Nitric Acid and organic solvents like Diisobutyl Ketone. Other chemicals like Silver Nitrate are also included.
Team Microlit: As you mentioned, you are currently using Beatus and E-Burette in your lab. Have Microlit products improved your lab experience in any way?
Mr Abdelrhman: Yes, indeed! I'm impressed with how functional, accurate and easy to operate both Beatus and E-Burette are. They have improved our efficiency and eliminated the incidence of error in our experiments.
The readings are saved electronically in an E-Burette. This has saved our time & effort and reduced the incidence of manual error.
The feature to transfer the readings to a computer simultaneously is also helpful. We can now do the calculations from the saved readings at a later time as per our schedule.
Team Microlit: How often do you use Microlit products and what kind of chemicals do you handle with them?
Mr Abdelrhman: Well, I use your products daily! With Beatus, I dispense Nitric acid and Hydrochloric acid and I use E-Burette with Silver Nitrate solution and sometimes an organic solvent. Both the products are quite adept at handling almost all kinds of reagents used in our lab.
Team Microlit: Wow, that's wonderful. Besides your usual work, are you working on any interesting project that you could share with us?
Mr Abdelrhman: Yes, definitely. Recently, our team detected copper in the samples collected from an area in Sudan that happens to have a high concentration of gold. This was new to us. And, separating gold from copper can get hectic. So, right now, our entire team is working to find a scientific way to do this efficiently. It's quite exciting!
Team Microlit: That's interesting! Mr Abdelrhman, it was great talking to you. Here's our last question – What has it been like to work with Microlit instruments? Are there any features that stand out for you?
Mr Abdelrhman: I have been using Microlit products for a year and I'm very satisfied with them.
In the case of Beatus, the flexible delivery nozzle [FlexiNozzle™] and the chemical compatibility of the instrument impressed me the most. Hydrochloric acid and Nitric acid are strong acids; Beatus has ensured that we could dispense both of them with safety as well as accuracy.
In the case of E-Burette, to be honest, I was impressed by a lot of features including its touch-screen enabled control panel, one-touch filling operation and precise speed control. Not to forget, the three dispensing speeds!