Decoding FDA 21 CFR Part 11 Compliance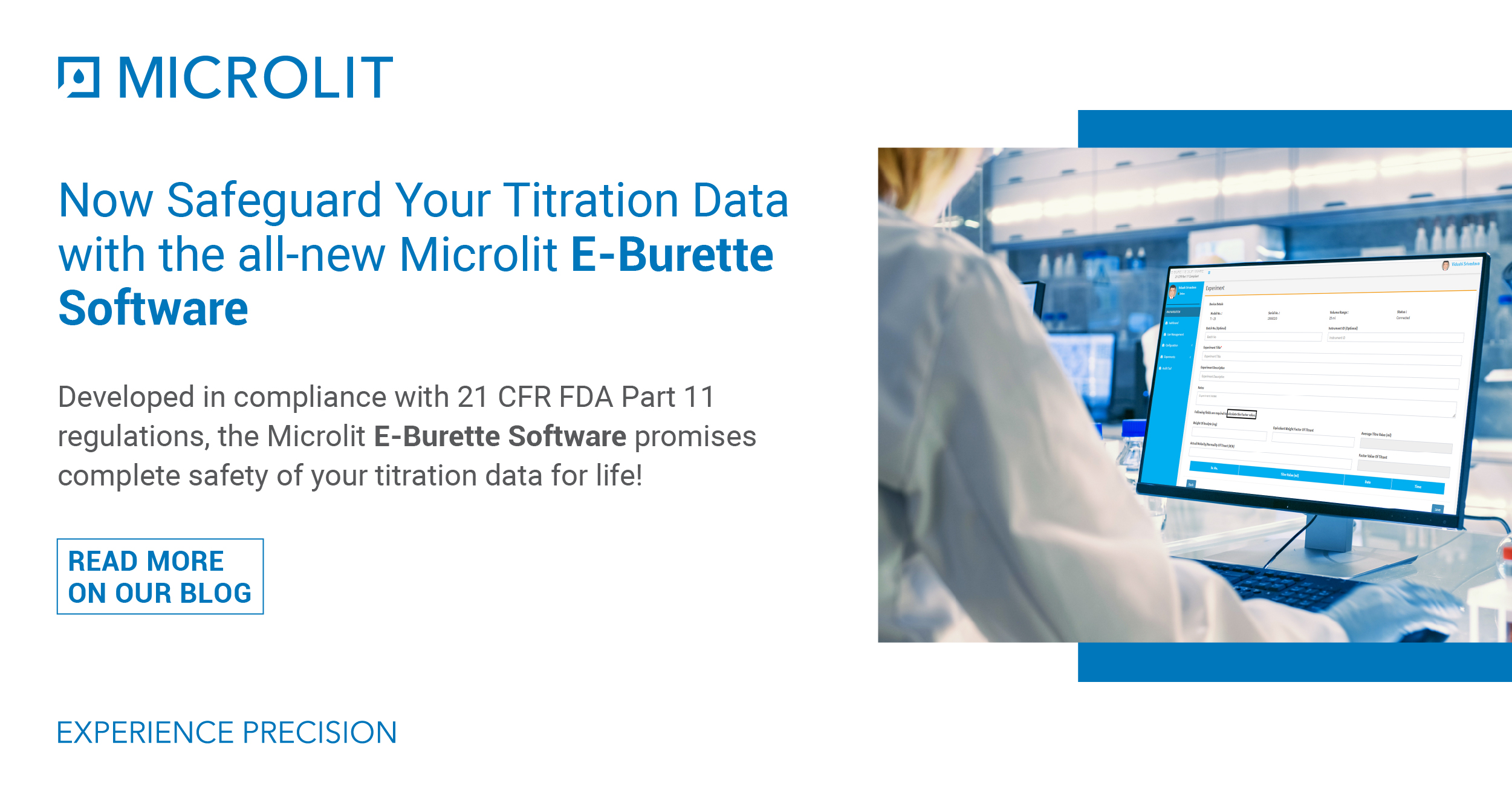 We've always upheld the importance of maintaining the validity, reliability and authenticity of the experiments conducted with our high precision liquid handling equipment. In line with this thinking and after an intensive 12-month-R&D, we're glad to present the all-new Microlit E-Burette Software developed in compliance with FDA 21 CFR Part 11. Considering the growing shift to digital record-keeping, the FDA (Food and Drug Administration, USA) introduced 21 CFR Part 11 (Code of Federal Regulations) in 1997 outlining guidelines on the usage of electronic documentation and signatures.
In this blog, we will first take a brief look at the norms and regulations that authorise new products in the clinical and non-clinical sector. From there, we'll dig into why integral data is crucial, followed by a concept called Dual Approval and finally introduce you to the features of the Microlit E-Burette Software.
21 CFR (Code of Federal Regulations) Part 11
FDA (Food and Drugs Association) 21 CFR is a section in the Code of Federal Regulations (CFR) that sets forth the United States FDA's guidelines on using electronic records and electronic signatures. Each title of the CFR addresses a different regulated area. And so, 21 CFR relates to Pharmaceuticals and Medical Devices.
 Part 11 is a law that ensures that companies and organizations implement good business practices deemed to be accurate, authentic, reliable and confidential, equivalent to paper records and handwritten signatures on paper. Part 11 essentially allows any paper records to be replaced by an electronic record and allows any handwritten signature to be replaced by an electronic one.
This is how the "21 CFR (Code of Federal Regulations) Part 11" code outlines secured electronic documentation. The 21 CFR demands and ensures data security by validating the electronic instrument, an audit trail for every action, electronic copies of the records, and safe retention of the electronic records. 21 CFR compliance benefits the industries by eliminating the paper record system and increasing the authenticity of data and records via electronic security mechanisms.
Why follow the 21 CFR Part 11 norms?
They reduce turnaround time and costs, by establishing standard criteria for the use of electronic records and signatures.
In their absence, managing readings electronically will be tough. This will significantly increase the risk of human errors and the operational and marketing costs for pharmaceutical products.
Digital readings will improve efficiency, cut down fluctuating results and minimise the use of physical copies, for every new study.
GLP and GMP norms
Good Laboratory Practices (GLP)
Good Laboratory Practices or GLP is a set of principles intended to assure the quality and integrity of non-clinical laboratory studies. These studies support research or marketing permits for products regulated by government agencies.
The term GLP is most commonly associated with the pharmaceutical industry and the required non-clinical animal testing that must be performed before the approval of new drug products. GLP also applies to many other non-pharmaceutical agents such as colour additives, food additives, food contamination limits, food packaging, and medical devices.
The new Microlit E-Burette Software adheres to GLP principles.
Good Manufacturing Practices (GMP)
GMP guidelines are a set of principles that help manufacturers, like Microlit, implement an effective manufacturing process. GMP guidelines are customarily flexible and quality-assured, with countries having their legislation to comply with their local guidelines and principles.
Microlit manufactures its product as per GMP norms. They also undergo comprehensive Quality Control (QC) and Quality Assurance (QA).
Data Integrity
The Microlit E-Burette Software ensures the highest levels of data integrity with a series of features like non-editable electronic records, multiple authentication checks, data privacy, etc. Data Integrity is the extent to which the data is complete, consistent and accurate throughout the data lifecycle. For this to happen, properly written and executed standard operating procedures (SOPs) are needed. Data integrity applies to both paper-based and electronic quality management systems in laboratories, production, logistics, etc and with 21 CFR, the whole process is automated and data authenticity is established.
To ensure data integrity, the following steps are needed:
Eliminate disparate solutions and replace them with a harmonized system
Adopt a system that provides the greatest possibilities of closed-loop processes to avoid redundancies
Have a system that complies with the regulations, such as full audit trails, electronic signatures (21 CFR Part 11)
A system that provides modern integration capabilities to ensure data integrity across different systems
A system that provides multilingual capabilities to support local users and avoid data integrity issues caused by language issues
The maker-checker-validator concept
The Microlit E-Burette Software ensures accuracy and assurance in the data recording process through its maker-checker-validator concept. Every transaction entry has at least two individuals necessary for its completion. The one who makes the transaction entry (i.e. maker) cannot be the one who checks (i.e. checker) it. A transaction entry is only considered complete if it has been reviewed.
This process introduces a second set of eyes and helps spot things that appear suspicious, strange or incorrect. Dual approval helps protect against unintended errors and compromised credentials. This ensures reliable data and authentic research results.
 More about the Microlit E-Burette Software
As discussed in the sections above, the new Microlit E-Burette Software upholds the integrity of all norms and regulations. As users, you will now be able to create titration experiments as electronic records on the software and directly transfer E-Burette readings to it. Based on the inputs and the readings received, the software will automatically compute the molarity/normality of the analyte.
Features & Benefits
Multi-step Authentication:  An additional layer of security
In line with our intent to build infallible security mechanisms, a user is required to pass through a multi-step authentication process to operate the software and access the data.
Audit Trail: An eye on every activity
From user login/logout to the creation of a new experiment, the software records every user activity in an audit trail. It is completely secure and can only be accessed by permitted users.
Data Authenticity: No falsified records ever
Once recorded, the titration experiment data cannot be edited. This makes it 100% reliable, credible and authentic.
Data Security: Complete safety and privacy
The software keeps the data safe via a sturdy and secured mechanism involving multiple authentication checks, audit trails, non-editable electronic records, and more. Also, Microlit cannot access the data stored on your instance of the software: You have complete control over your organisation's database.
User Interface: Intuitive and easy to grasp 
The software interface has been designed to maximise user convenience. With an intuitive design and easy navigation, you will understand how to operate it in no time.
Titration Choices: Versatility at its best
The software gives you the option to perform the titration experiment of your choice – Volumetric Titration or Assay Titration – further enhancing user comfort.
Conclusion
Microlit understands that electronic record-keeping is now a common industry practice. Therefore, it's critical to ensure the security and integrity of the stored data with the help of a software solution that complies with the strict regulations of FDA 21 CFR Part 11. The Food and Drug Administration (FDA), USA forms a strong foundation for the public's health sector. It ensures the safety, efficacy and security of human and veterinary drugs, biological products, and medical devices.
With the development of the new Microlit E-Burette Software, we have forged a holistic and robust policy that further fuels Microlit's journey towards precision.
To know more about Microlit E-Burette and the new FDA 21 CFR Part 11 compliant software, drop a mail at info@microlit.com.