Dr Bhattacharya, Assistant Professor, Department of Tea Science, University of North Bengal discusses Tea Science, Cytogenetics, Tea Link and more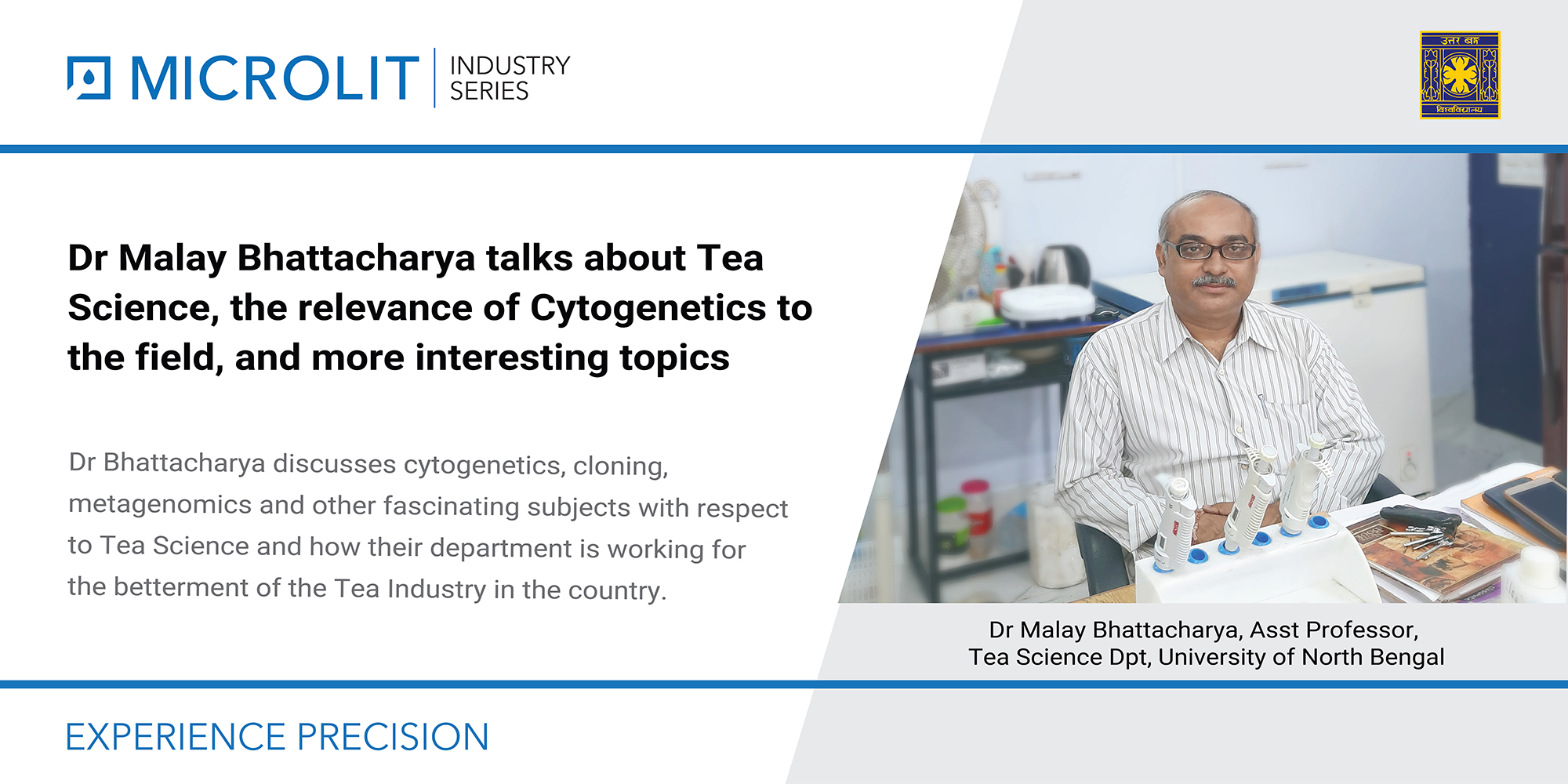 Disclaimer: 
This discussion consists of personal views & experiences and does not represent the views of the organization as a whole.
Team Microlit: Hello Dr Bhattacharya, it's an honour for us to interview you. Can you please begin by telling us your association with the University of North Bengal?
Dr Bhattacharya: Hello and thank you. I am currently the Assistant Professor, Department of Tea Science at the University of North Bengal. I have been associated with the university for 05 years now.
---
Team Microlit: Your department is one of its kinds in the country. How did it come to be?  What are the research areas that your team is taking up or is interested in pursuing?
Dr Bhattacharya: The University of North Bengal is situated in the tea-growing region of West Bengal. The Department of Tea Science was established after identifying the huge demand from the regional and nearby tea growing communities that require trained professionals to be a part of the tea industry. In fact, even the Tea Board of India and the Indian Tea Association have been quite helpful to our department via a number of ongoing collaborations.
Tea plantations have existed in the region for more than 150 years. The economy of the region mainly depends on the tea industry. There are more than 300 tea estates and 50,000 small tea growers in this region.
Unfortunately, with the passage of time, the nutritional richness of the soil has declined, mostly due to the shift from organic to inorganic mode of cultivation. Moreover, old bushes need to be replaced by new clones which have the potential to cope with the stress on the environment. So, tea researchers are becoming more interested in researching on challenges like:
Soil microbes that are stress-tolerant
Clones that can face challenges caused by the changing environment
---
Team Microlit: Is Cytogenetics relevant for Tea Science? How?
Dr Bhattacharya: Cytogenetics is crucial as it works for the betterment of the Tea industry. Identification of tea clones is very difficult by studying vegetative and floral characters. But, DNA analysis can specify clones with molecular signatures that might prove helpful. As tea plants require 20 years to express most of its characteristics, it is very difficult to carry on experiments on multiple generations. But, with cytogenetic studies, the probable characteristics can be predicted at an early stage.
Team Microlit: You have done a lot of research in the field of plant biology. Can you share with us some new developments on the same?
Dr Bhattacharya: Yes, we are rigorously researching in the field of plant biology. Some of the areas we are working on are tea clones, soil microbes and biotransformation processes.
Team Microlit: Which has been the most challenging piece of research for you, so far, and why?
Dr Bhattacharya: Assigning molecular signature to tea clones through DNA barcoding has been pretty challenging.
Tea is cultivated through seeds and is cross-pollinated. There is immense genetic mixing between desired and undesired clones. Hence, finding pure clones during the research was a difficult task. While working on useful soil microbes, we faced many challenges as the soil and microflora have been gravely affected by the prolonged use of toxic chemicals.
---
Team Microlit: What challenges have you faced with metagenomics with respect to soil microbiology?
Dr Bhattacharya: The selection process of sites for metagenomics requires a huge number of upstream experiments. This is a very time consuming and elaborate process; we have been working on it for quite some time now and have made some progress. We will declare some solid outcomes soon.
---
Team Microlit: We believe that biomolecules influence the transformation mechanisms of metals and metalloids in the soil environment. Can you share your thoughts on the same?
Dr Bhattacharya: Accumulation of toxic compounds in soil resulting from ill-managed pest management strategies has polluted the soil in tea plantations. Moreover, some bigger bio molecules from leaves and other plant parts have further aggravated the soil degradation process. To overcome this situation, the search for a microbe for soil reclamation is on.
---
Team Microlit: We heard that you were part of the Tea Link – 2017 meet. How was the experience?
Dr Bhattacharya: Great. The Tea Link – 2017 was an initiative for Industry-University linkage. It was attended by university professors, tea researchers, representatives from tea research associations and tea industrialists. We all came together to share and discuss the problems to find out an amicable solution for the betterment of the tea industry.
---
Team Microlit: Coming to the last question, would you like to share a message for the aspiring students and young researchers who want to study Tea Science?
Dr Bhattacharya: Yes. Tea Science has good job opportunities for aspiring students and young researchers. The subject is interesting and studying it extensively will make you ready to accept challenges in the tea industry. In fact, our initiative can help in the socio-economic development of the country and also, add more taste to your cup of tea.