How to Secure NABL Accreditation for Laboratories in India?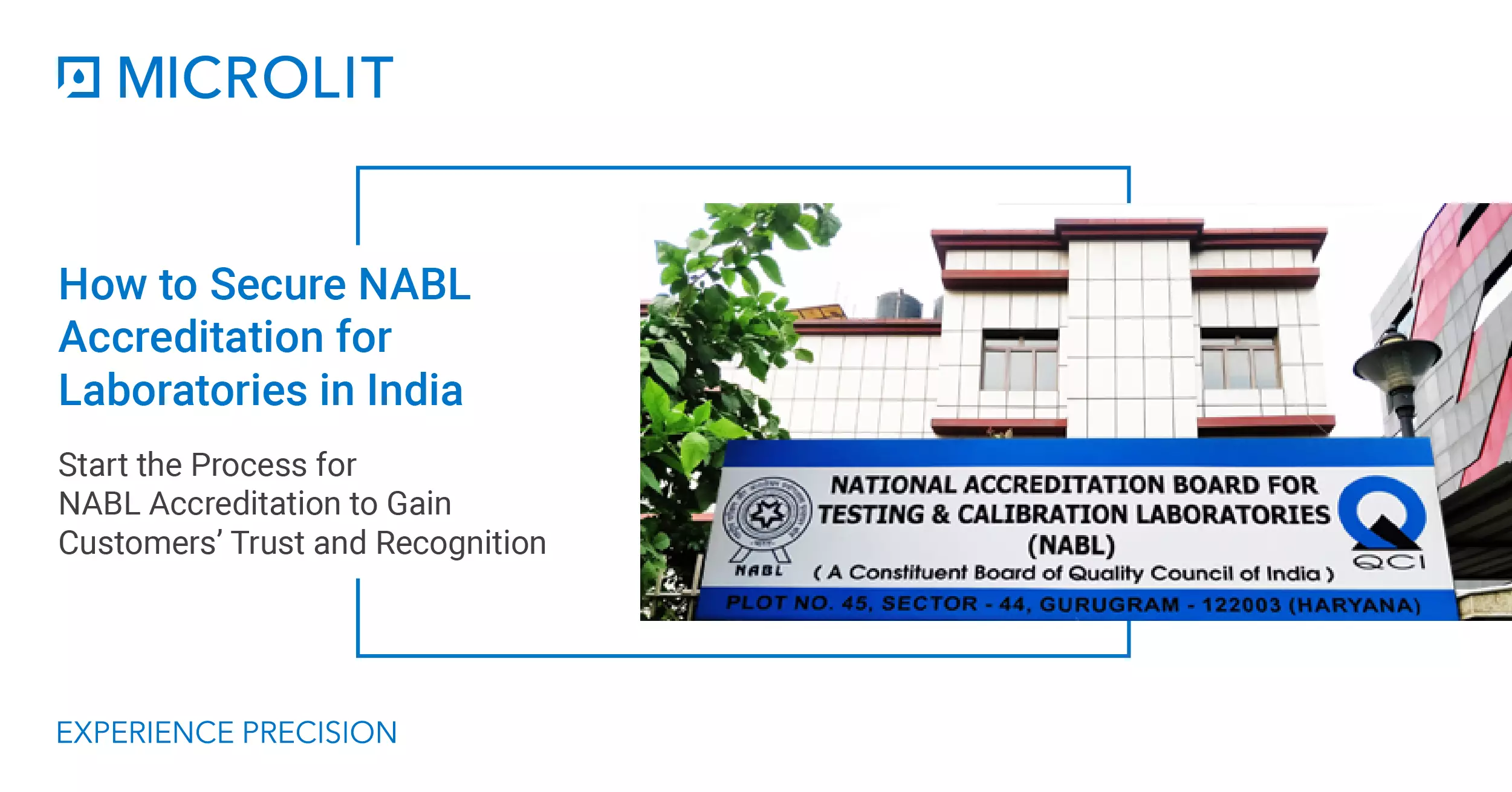 About NABL
National Accreditation Board for Testing and Calibration Laboratories, popularly known as NABL, is a constituent Board of Quality Council of India (QCI). QCI is a registered society under the Societies Registration Act, 1860. Department for Promotion of Industry and Internal Trade, Ministry of Commerce and Industry, Government of India is the nodal Department for QCI. NABL has been established with the objective of providing Government, Industry Associations and Industry in general with a scheme of Conformity Assessment Body's accreditation which involves third-party assessment of the technical competence of testing including medical and calibration laboratories, proficiency testing providers and reference material producers.
NABL maintains linkages with the international bodies like International Laboratory Accreditation Co-operation (ILAC) and Asia Pacific Accreditation Co-operation (APAC). NABL is a full member of ILAC and APAC and regularly takes part in their meetings. More information on these international co operations can be obtained from their websites www.ilac.org and www.apac-accreditation.org respectively.
NABL is responsible for granting accreditation in almost all major science and engineering fields, including mechanical, biological, electrical, electronics, non-destructive, thermal & forensics, electro-technical, fluid flow and so on. NABL is an autonomous body that offers accreditation to the Conformity Assessment Bodies in a non-discriminatory manner. In order to achieve this objective, these services are accessible to all the working laboratories in India and abroad, regardless of whether they are legal or not, ownership, size, or degree of dependence.
NABL publishes documents for the CABs, Assessors and its own use. All NABL documents meant for the use by persons outside NABL, are available on NABL website www.nabl-india.org, free of cost.
The specific process for accreditation at NABL 
Please note that the process of NABL accreditation is not a one-time procedure. Once Conformity Assessment Body (CAB) gets accreditation, it expires every two years, after which CAB need to apply via the NABL portal for Renewal of Accreditation six months before the expiration date to allow NABL to organize assessment of the CAB, so that the continuity of the accreditation status is maintained.
NABL conducts annual Surveillance which is aimed at evaluating continued compliance as per the relevant standards. There are two types of surveillance – 1) On-Site Surveillance & 2) Desktop Surveillance.
The Process for Accreditation at NABL 
To start the process of accreditation at NABL, the CAB is expected to apply at nablwp.qci.org.in
The laboratory is responsible for making an application to the NABL. This application must involve all the significant details. NABL only accepts the online application and do not entertain any applications in hard copy (kindly refer to website www.nabl-india.org).
In the next step, the applicant is responsible for paying a corresponding fee charged by the NABL to carry on with the accreditation at the NABL.
Once the application is generated by the applicant and the fee is received by the NABL secretariat, they will issue a unique identification number to the applicant that must be quoted later in all correspondences with the NABL.
NABL secretariat will go through the application and if there are no inadequacies, an optional pre-assessment visit to the CAB by the lead assessor will be carried out. During this visit, the lead assessor will check if there's a need for another assessment for security.
Once the evaluation process is done, the lead assessor submits a well-defined report to the NABL Secretariat for future records.
In case of non-conformities, the CAB will take immediate actions to mitigate the risk factors within 30 days of report submission.
After satisfactory actions by the CAB, the NABL secretariat will re-access the report and make a genuine appeal to the chairman of NABL. In case everything falls into place, accreditation will be granted to the CAB.
Once the accreditation is permitted, the NABL grants the following-
Unique identification number
Hologram having the NABL signs
Certificate of NABL approval
Date of certificate validation
Rules and regulations
Accreditation Process Flow Chart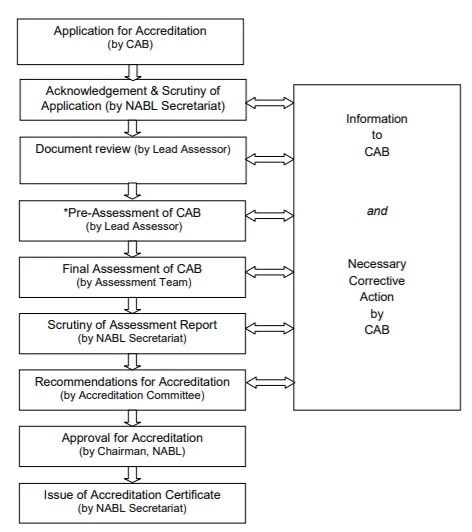 List of Documents Required :
Some of the following documents are necessary for NABL accreditation in India :
NABL 100 – General information of NABL
NABL 112 – Criteria for medical laboratories.
NABL 126 – Specific criteria for medical devices calibration
NABL 151 – For testing laboratories
NABL 152 – For calibration laboratories
NABL 153 – For medical laboratories
NABL 155 – Application form and checklist for NABL medical
NABL 160 – Quality system manual management information
NABL 190 – Application Form for Reference Material Producers (RMP)
NABL 180 – Application Form for Proficiency Testing Providers (PTP)
NABL 219- Assessment forms and checklist for NABL
About Microlit Laboratory
The calibration laboratory at our headquarter in Lucknow, India is at the nexus of our manufacturing and product calibration activities. It is certified under ISO 17025 by NABL. This means that every liquid-handling instrument manufactured by Microlit is individually calibrated and further conforms to ISO 8655 standards of accuracy and precision and ensures accurate experiment results.
While a number of standards are used in the calibration industry for piston-operated equipment, the most important ones include ISO 8655 and ISO/IEC 17025:2017, each defining separate aspects of a typical quality calibration.
ISO 17025 – It enables testing and calibration laboratories to demonstrate their competence and capability to generate valid results, facilitating seamless national and global cooperation with other laboratories and relevant bodies. Compliance with ISO 17025 ensures ready acceptance of test reports and certificates issued by a laboratory, without the need for further testing.
ISO 8655 – It is the most vital ISO standard for the calibration of burettes, dispensers, diluters and pipettes operated by pistons. To sum it up, ISO 8655 is a comprehensive set of procedures, methods, and standards to calibrate a pipette with accuracy and precision.
Conclusion
A NABL accredited laboratory instils confidence and builds trust among users as this framework is internationally accepted and approved. It assures accuracy and precision within the expected error limits.