How We Ensure High Levels of Precision in Our Lab Equipment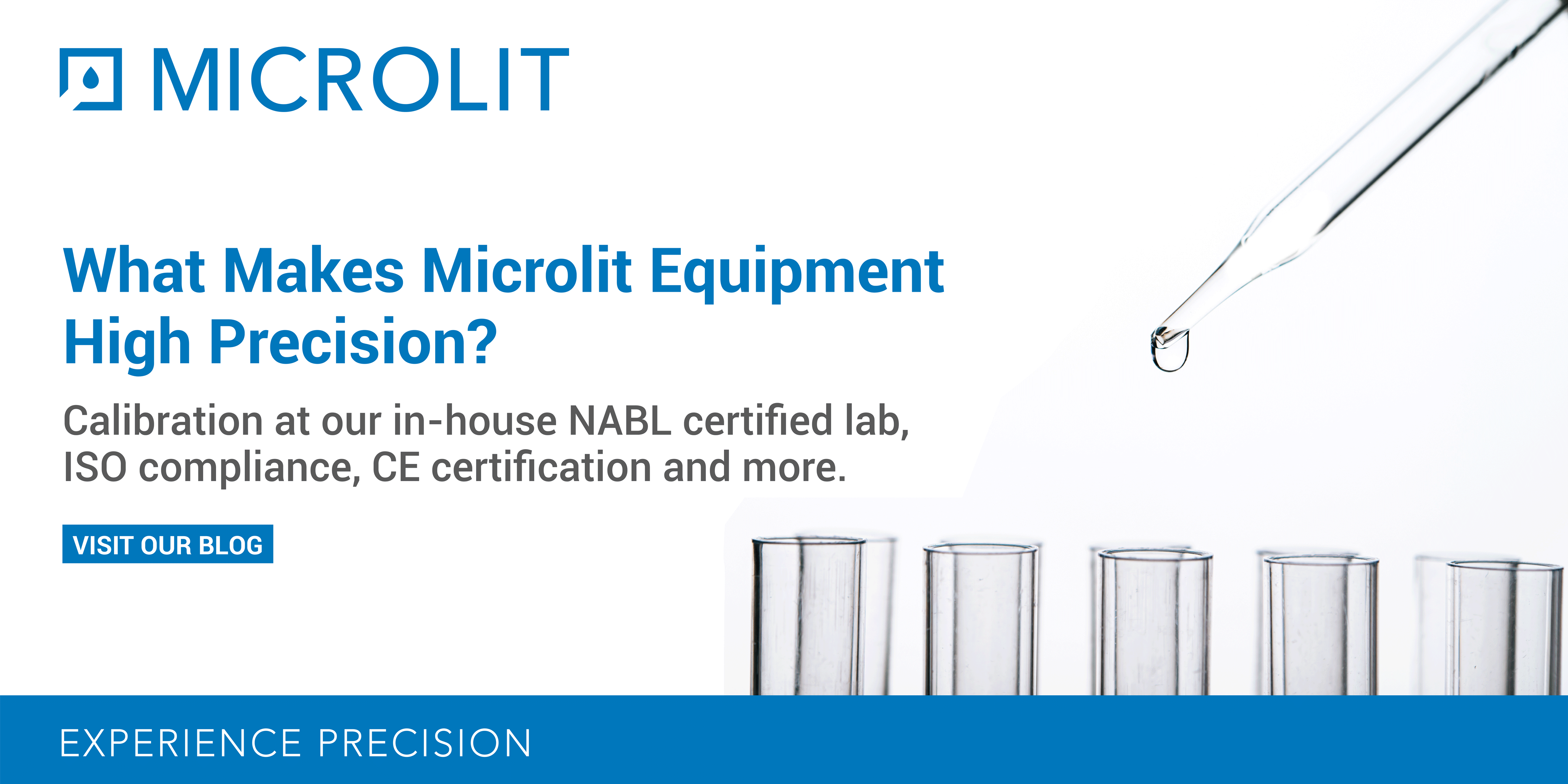 A lab cannot function effectively without precision and accuracy. Scientists and researchers always make it a point to measure reagents accurately in order to record the right readings and get precise results. Incorrect measurements make it difficult to get the desired outcome and the most common ways of making an error are either manual or an error in the lab instrument itself. When you use a lab instrument correctly, not only do you improve the degree of operational safety but also decrease the incidence of manual error. Further, an error in the lab equipment itself can be eliminated by properly calibrating it.
Microlit is known to design and develop high precision liquid handling instruments that are capable of delivering error-free results during research or while conducting a study. This is because our instruments meet world-class standards. We comply with ISO 9001, ISO 13485 and ISO 17025, each defining a particular quality trait of the instrument and meeting the regulatory and statutory requirements.
Headquartered in Lucknow, our calibration lab is certified by the National Accreditation Board for Testing & Calibration Laboratories (NABL), an accreditation institution set up for labs operating in India. Additionally, our product range is CE certified, emphasizing the top-notch quality of our instruments.
We check, and we double check
We closely monitor and inspect the raw materials procured for the production of our instruments. A comprehensive Incoming Material Inspection Report (IMIR) is developed to make sure that no faulty raw material is used for the production.
After the production of the instrument, it undergoes through multiple stages of quality checks – In-process Quality Check, Component Quality Check, Final Quality Check and a Pre-shipment Quality Check. With such rigorous quality checks, every Microlit instrument is more than ready to produce precise and accurate results.
Our drive for innovation 
Other than the elaborate quality check process that gives us an edge, our passion for product innovation also helps our brand stand at the forefront. Microlit instruments are ergonomically designed with intuitive handling, keeping in mind the user's ease & convenience. We conduct thorough market research and analyse the pain-points of the customer before we design a solution. This helps us build products that offer a great and unparalleled user experience.
We are honoured to have been awarded for our innovative designs.

We design our products with great care. They are built to last long in real lab conditions and to deliver precise and accurate results.
Let us demonstrate this by enlisting a few common features of our bottle top dispensers:
EasyKnobTM is a volume adjustment knob with a unique structural design that prevents over-rotation and ensures consistent, one-time volume setting, every single time.
FlexiNozzleTM is an adjustable delivery nozzle that allows changing the angle of the delivery nozzle depending on the vessel in use – test tube, conical flask, measuring cylinder, etc.
Springless ValveTM is an award-winning technology that makes our bottle top dispensers compatible with both organic and inorganic reagents and enables smooth, jam-free functioning.
All these features have been carefully developed by our in-house team of product design engineers, keeping in mind the ease of the customer and how necessary it is for them to make the most out of our instruments so that they can produce precise and accurate results.
To know more about Microlit Bottle Top Dispensers, click here.