Latest Developments in the Indian Pharmaceutical Industry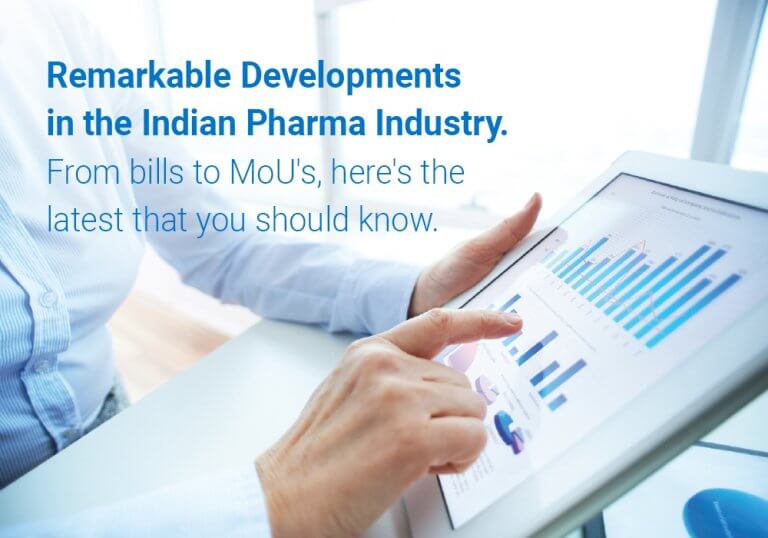 There's so much happening in the pharmaceutical industry – from new researches being conducted to better technologies being made available – at a high growth pace that it's easy to overlook stuff that might be really useful and beneficial.
For your convenience, we have compiled some of the biggest recent developments from the Indian  pharma segment.
The Allied and Healthcare Professions Bill (2018)
On 22 November 2018, The Allied and Healthcare Professions Bill for the regulation and standardization of education and services for the aforementioned was approved by the Govt of India. The bill targets to set up an Allied and Healthcare Council of India and corresponding state councils in order to play the role of a facilitator as well as a standard-setter for the likes of physiotherapists, nutritionists, laboratory workers, etc.The allied and healthcare professionals are an important element of the health HR network. The more skilled and efficient the professionals are, the less the cost of care and the more improved is the access to quality healthcare services. This legislation strives to bring everyone on board within a few years once the council gets established.
GE Healthcare MoU to support Ayushman Bharat
Wipro GE Healthcare has entered a memorandum of understanding (MoU) with Society for Applied Microwave Electronics Engineering and Research (SAMEER) for the development of an Indigenous 1.5T MRI system. GE Healthcare and SAMEER (an R&D unit under the Department of Electronics and Information Technology (DeitY), Govt of India) plans to collaborate on research, design and development of an MRI Platform focusing on increasing the accessibility of the MRI technology in the country.
GE Healthcare will also provide SAMEER trainings on MRI technology and support the benchmarking of various subsystems, including gradient and radiofrequency amplifiers, coils, spectrometer and imaging software. The two will also collaborate to develop AI and machine learning based solutions. The program has a strong alignment towards Make In India and also focuses on supporting the Ayushman Bharat initiative by making cutting edge MRI Technology affordable and accessible.
Significant Trends in the Pharmaceutical Industry
The pharmaceutical sector has seen deals totaling over $2.1 bn this year, compared to $1.9 bn the last year. This growth is significant as well as expected to continue consistently into the coming years.
1.Inorganic growth through large deals
While overall the pharmaceutical segment did definitely see a decline in terms of deal volumes, the major trend that is visibly developing is how investors are now much more inclined to place large bets to support inorganic growth.
2. Focus on outbound deals to widen reach
Indian companies are looking towards outbound acquisition opportunities to achieve scale as well as category leadership through quality manufacturing assets and higher portfolios for generic products.
3. Platform plays in domestic pharma
True North recently collaborated with Glenmark with the long term objective to build a domestic specialty pharmaceutical company, signing a deal worth $92 mn. With this, we can understand how platform plays are being created in the domestic pharmaceutical sector and how this trend is also emerging in the private equity segment.
What does the future hold for Indian companies?
1.Indian companies will remain acquisitive as they prepare for the next leg of specialty generics-driven growth and will evaluate cross-border deals to acquire brands and capabilities in niche therapies.
2.Major domestic consolidation is unlikely due to the reluctance of promoters to sell and their high valuation expectations.
3.Smaller divestments of tail-end brands or manufacturing facilities will continue as companies streamline their portfolios and focus on their core strengths.
4.Globally, pharma companies have used M&A as a standard lever for growth as it provides access to specialty products and, now, Indian companies are using this lever boldly and decisively.
Citations :
https://www.thehindubusinessline.com/news/cabinet-approves-allied-and-healthcare-professions-bill/article25565911.ece
https://www.business-standard.com/article/companies/ge-healthcare-to-aid-sameer-develop-indigenous-mri-bets-on-ayushman-bharat-118100800907_1.html
https://www.medicalbuyer.co.in/make-it-large-a-significant-trend-in-the-indian-pharmaceutical-industry/