Microlit RBO and Scitus facilitating research and development at Emmennar Pharma Pvt. Ltd.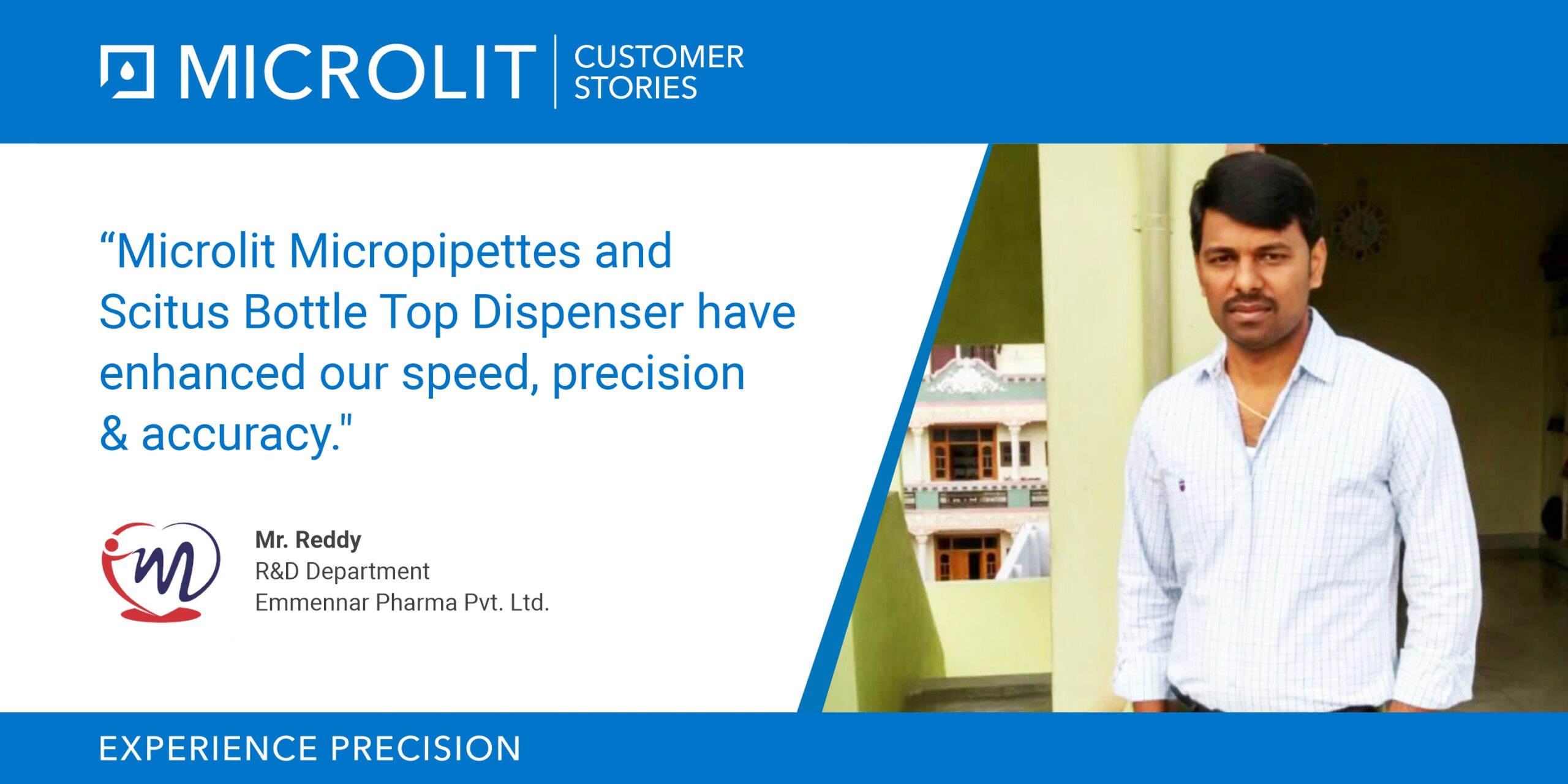 About Emmennar Pharma Pvt. Ltd
Established in the year 2005, Emmennar Pharma Pvt. Ltd. has the aim & drive to become the premier integrated pharmaceutical company in India. Its business focuses on contract manufacturing, custom synthesis, FTE research and the manufacturing & marketing of pharmaceutical products and services to clients across the globe. Its product portfolio includes a range of Active Pharmaceutical Ingredients (APIs), Fine Intermediates, Finished Drug Formulations (FDFs) and CRAMS.
Emmennar Group was founded in 2005 by Mr. M Narayana Reddy who is currently the company's Chairman. He is also the Managing Director of the Virchow Group. He is accompanied by a team of highly qualified and experienced technocrats. The company has 25 years of experience in selling bulk drugs through the Virchow Group.
R&D Department at Emmennar
Equipped with state-of-the-art facilities, the Research & Development (R&D) Department at Emmennar works on FTE (full-time equivalent) or one-off synthesis arrangement, custom synthesis (>95% purity, mg, gram to kg scale), reference compounds synthesis and purification, project management, record keeping, project reports, quality assurance, compound delivery etc. The department also offers services to scale up and optimise processes on a pilot basis. The aim of the department is to accelerate the speed of R&D of its customers.


Team Microlit: Mr. Reddy, it's our pleasure to converse with you today. Please tell us about your role at Emmennar Pharma Pvt. Ltd.
Mr. Reddy: Thank you! I take care of the R&D (Research and Development) Department here at Emmennar. In our department, we work on analytical methods such as performing titration, quality control etc. and then pass on the results to the quality control department.
---
Team Microlit: What kind of projects are you working on currently?
Mr. Reddy: At the moment, we are working on a project to produce generic painkillers.
---
Team Microlit: How has COVID-19 affected your life/the research work you do?
Mr. Reddy: Recently, we have made one lab operational to develop a cure – vaccine, medicine – for COVID-19.
---
Team Microlit: How long have you been associated with Microlit? Which of our products are you using and for what purpose?
Mr. Reddy: We have been associated with Microlit for over 5 years now. We use Microlit Micropipettes for spiking, metal validation and for transferring solutions from one vial to another. Before micropipettes, we were using syringes but it was not an ideal method. Now, we are able to conduct spiking studies without errors as it avoids cross-contamination by allowing us to replace the tips frequently. We have also been using the bottle top dispenser, Microlit Scitus.
---
Team Microlit: How often do you use Microlit Scitus and for what purpose?
Mr. Reddy: We use Microlit Scitus quite frequently for dispensing acetic acid. We are really happy with the high chemical compatibility of the dispenser.
---
Team Microlit: How would you describe your experience with our products?
Mr. Reddy: Our overall experience with Microlit products has been good. In my opinion, Microlit is a good organization that undertakes various activities and develops products keeping the user in mind.
---
Team Microlit: Would you recommend Microlit products to other institutes and/or researchers?
Mr. Reddy: Yes, we would like to recommend our peers and partner labs to use Microlit Scitus and Microlit Micropipettes. The products have helped us speed up our processes and improve the precision and accuracy of our experiments.