Mr Deepak Singh shares details about crucial role of Quality Assurance and Quality Control in reducing error margins and streamlining processes at SLMG Beverages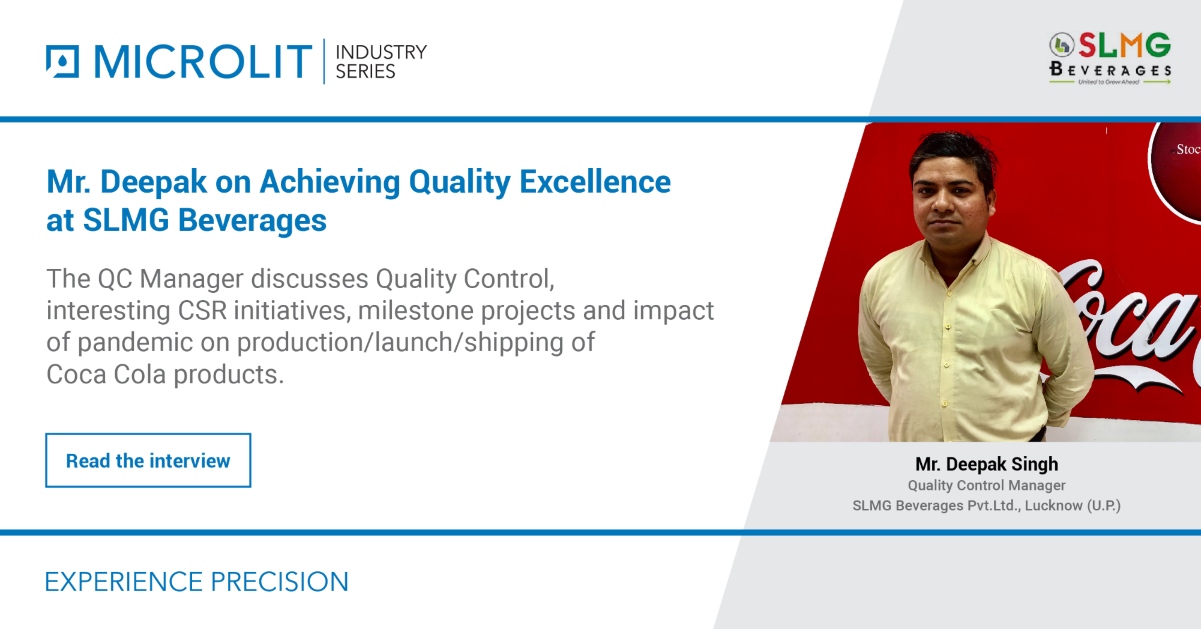 Team Microlit had the chance to interact with Mr Deepak Singh, Quality Control Manager at SLMG Beverages Pvt. Ltd. (Coca-Cola), Lucknow (UP). We asked him several questions during our interaction regarding his role, milestone projects, CSR initiatives and his rich experience at SLMG Beverages.
SLMG Beverages is one of India's leading beverage companies that has been closely associated with Coca-Cola for over 30 years now. With over 1.5 million outlets, a network of 1500+ distributors, 25+ transporters and 30+ warehouses, SLMG Beverages is a highly successful bottling franchise across Uttarakhand and Uttar Pradesh, offering state-of-the-art manufacturing facilities.
---
Team Microlit: Let's start our discussion with your academic qualifications and professional work experience till date.
Mr Deepak Singh: Hello, thank you for having me. I have pursued B.Tech degree in Food Technology from Mahatma Gandhi University at Chitrakoot, Madhya Pradesh. I have been working in the Food and Beverage industry for nearly 12 years. Earlier, I was associated with Adani Group in Faizabad (UP) and worked in their mother plant.
---
Team Microlit: Tell us something about your role at SLMG Beverages. What is the one thing which you find unique about your work?
Mr Deepak Singh: The learning opportunities at SLMG Beverages are great. The F&B industry is evolving each day and Coca-Cola is a big brand offering a wide range of beverages. It has begun to incorporate several new principles like sustainability, waste management and community growth.
What is truly unique is the community that we've managed to build over the years, which continues to grow with us. We are working on several water management activities as CSR initiatives, such as water neutralization, i.e., whatever water we take – we recycle 100% of it.
---
Team Microlit: That's great! Could you highlight some of the milestone projects that you have worked upon at SLMG Beverages ?
Mr Deepak Singh: There are several automation projects that we regularly work upon. One milestone project is the digitization of quality control process called "Interlocks". Earlier, manual controls were popular, but now we use interlocks for quality control and managing various projects.
---
Team Microlit: Can you share how a key project of yours showed a massive impact on the F&B industry?
Mr Deepak Singh: Currently, we are leading a project for saving water. We're cutting down our water consumption by one-third.
For example, for producing 1 L of beverage, earlier, we were using 1.8 L of ground water. However, now we have reduced the consumption to 1.3 L. We are also recycling the discharged water by running it through several processes and using them for our utilities. The water we use was earlier discharged and drained, whereas now it gets recycled and used as processed water that runs through our plant.
---
Team Microlit: This is excellent! We would like you to share any challenge(s) you face in quality control/operations – how did you address those issues?
Mr Deepak Singh: Some minor issues exist. However, SLMG Beverages follow industry protocols/standards, so we reject the results that are not within our specifications and we re-work our processes to achieve the desired results.
---
Team Microlit: Could you tell us about a time you implemented an improvement to a procedure?
Mr Deepak Singh: We focus on visual SOPs, which is way more convenient and easier to understand for the employees without facing any difficulties. Earlier, there were written SOPs which were difficult to understand. Hence, we made this shift.
Apart from this, we included some single-point techniques. For example, if someone makes a mistake, we point the mistakes out on the chart/graph along with the corrective measures to be undertaken. The whole procedure is documented and informed within the team so that each team member ensures such mistakes don't get repeated in future. It minimizes future complications.
---
Team Microlit: What was the impact of this change?
Mr Deepak Singh: Earlier, several mistakes occured due to lack of communication. Now, people are successfully meeting project expectations while bridging this communication gap. After implementing this strategy, people can now look for corrective measures quickly and assess their mistakes wisely. This flowchart helps resolve doubts for the upcoming projects as well.
---
Team Microlit: What happens when someone in your team gets demotivated? How do you motivate them again?
Mr Deepak Singh: We run awards and recognitions programs to motivate and appreciate our teammates who need a strong push. We believe gifts and rewards make a huge difference in motivating them.
---
Team Microlit: That's interesting to know! With this, we would like to know which lab instruments do you use to conduct research and QC processes?
Mr Deepak Singh: We majorly work with pH meters, TDS meters, Viscometers, Manual Burettes, Auto Titrators, Micropipettes etc. Our work mainly revolves around these equipments.
---
Team Microlit: Do you use Microlit's instruments?
Mr Deepak Singh: Yes, we use the Microlit's E-Burette for titration purposes. The primary reason we use Microlit's product is to measure the level of acids present in juices due to the natural behaviour of fruits.
---
Team Microlit: Could you share any experiment(s) for which Microlit products were used?
Mr Deepak Singh: Yes, for TTA (Total Titratable Acidity). Juices are acidic due to the nature of the fruits. We measure the acidity content of the juices with Microlit's E-Burette.
---
Team Microlit: Great to know that our products are being used. We would further like to know the significance of the standardized tests you perform on beverages, additives and preservatives?
Mr Deepak Singh: Yes, we carry out several tests throughout the quality control process. Firstly, the regulations state that the pH level should be less than 4.4 for juices, which we check while performing the TTA test. Apart from this, we follow the FSSAI parameters followed all over India, which are applicable to us.
---
Team Microlit: Further, what are the new-age requirements in your industry? Additionally, could you highlight the future of the labs in the F&B industry?
Mr Deepak Singh: We are currently looking for combo solutions – for example, a single instrument that can measure pH, TDS and many other parameters. In the beverage industry, there are multiple instruments that need to be used for conducting one specific test. But in other industries – for example, the dairy industry, a single instrument can measure up to 9 parameters. Therefore, I believe the requirement for multi-parameter instruments will grow in our industry.
---
Team Microlit: Good to hear it! We got to know that SLMG Beverages have launched DIET products. Did you face any problems with this recent launch?
Mr Deepak Singh: We launch approximately 10–12 products each year, which help us to gain maximum reach and business. Some products become a hit, while some backfire as well.
---
Team Microlit: In which region the products from your plant are distributed to?
Mr Deepak Singh: We supply our products in UP, Bihar and Uttarakhand. Our legacy plants along with a couple of other bottling units are operational only in these States.
---
Team Microlit: Has SLMG Beverages been impacted by COVID-19 pandemic with respect to the product development/production/shipping of products?
Mr Deepak Singh: We witnessed a major impact, especially on the production and distribution, as the company was shut for 20–25 days in 2020. Soon after the first lockdown, we started with limited manpower. The 2020 year was difficult as people were not fully aware of the COVID-19 disease do's and don'ts and there were also strict government regulations. However, we started recovering from Sep 2020 onwards. The good part: we are now prepared to face any obstacles.
---
Team Microlit: Yes, absolutely! Lastly, do you have a message for the upcoming generation who aim to build a career in the F&B industry?
Mr Deepak Singh: I would like to mention that the upcoming age is one of automation and value addition. Earlier, being a part of the F&B industry was labelled as choosing a non-conventional, unorthodox path, whereas today, the industry is looking towards the upcoming generation to add value.
---
Team Microlit: Definitely agree with it! Thank you for answering all our questions so well. Is there anything else you would like to tell us? We will convey your message to our R&D team and are also currently working on launching more tabletop products that might help you.
Mr Deepak Singh: It is my kind suggestion that team Microlit starts work on multi-parameter instruments – single instruments that can measure 5–6 different parameters. This would help greatly with space constraints in labs. There is great scope for multi-parameter instruments in the future of the food industry and other industries that employ these instruments.