Mr K. Anil Prasad Reddy, Amneal Oncology Pvt. Ltd. talks about pharmaceutical microbiological analysis, and his role in testing and analysis.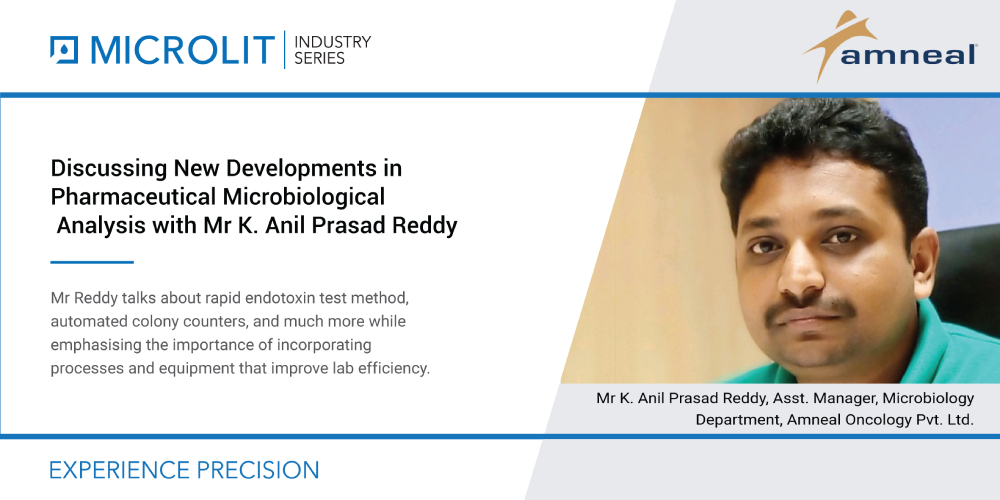 Disclaimer: This discussion consists of personal views & experiences and does not represent the views of the organization as a whole.
Team Microlit: Hello Mr Reddy, it's an honour for us to interview you. Let's start with your association with Amneal Oncology Pvt. Ltd. For how long have you been working with the company and in what capacity?
Mr Reddy: Hello and thank you. I've been working with Amneal Oncology for 4.5 years. I'm an Assistant Manager at the Department of Microbiology.
---
Team Microlit: Why did you choose the field of pharmaceutical microbiological analysis?
Mr Reddy: I've done B.Sc. in Microbiology and Masters in Biotechnology. I started my career as a product specialist. A few years after that, I got the position of a Microbiologist in a reputed pharmaceutical company. It was then when I knew the direction in which I wanted to excel.Science has intrigued me since my childhood days. With time, I gained more interest in microbiology and the work related to it. While deciding my future, I realised that the pharmaceutical industry had a great scope. I aligned my interest with the industry in a way that would be fit for my career and kept learning more and more about microbiology.
---
Team Microlit: According to you, what have been some of the key developments in pharmaceutical microbiological analysis in recent times?
Mr Reddy: Methods such as rapid stability testing, water sampling analysis and microbial detection are prevalent in India. As these are lengthy and cumbersome, our management wants to match up to the western countries and use methods that churn out results quickly. Consequently, most of the recent developments have been in respect to the instruments used, like automatic colony counters & filtration instruments and automatic platonic machines that add a degree of efficiency to the methods being practised.
---
Team Microlit: Has there been a discovery in the field recently or any new development with regards to the method of working?
Mr Reddy: The most recent discovery is the identification of the Rapid Endotoxin Test Method, also known as the Recombinant Factor C. Lately, some water kits are also being used for coliform detection, a type of bacteria present in water.Then, we have Automated Gram Stainers and Automated Colony Counters for the plate reading machine. On placing the plate onto the machine, we get the number of colonies directly.Microbiology methods are mostly manual methods. In order to move to the electronic methods, it is important that the instruments and methods used are compliant to the 21 CFR: audit trails. We are also moving towards such electronic methods and instruments which have audit trails.
---
Team Microlit: Interesting. So, Mr Reddy, tell us how does a typical day in your lab look like?
Mr Reddy: I'm the team leader for testing services. My day normally starts with water sampling analysis which consists of two things – the total variable microbial count and bacterial endotoxin testing. There are other tests as well like biological indication, detection and validation. Besides this, I go through the water identification system which involves microbial identification and performing the liquid borne particulate count.
---
Team Microlit: What are the challenges that you face in your day-to-day experiments?
Mr Reddy: The most common challenge that I face is the microbial failure in the water system or contamination of a water sample.
---
Team Microlit: Do you feel that researchers and scientists in India have enough resources to address such issues and compete with the innovations happening globally?
Mr Reddy: No, not yet. We need effective measures to improve our research funding, the equipment and the technology. We still have a long way to go and I am hopeful about the future.
---
Team Microlit: Please shed some light on what a WFI water system is and other validation methods that you have worked on.
Mr Reddy: WFI is 'Water For Injection'. It is the water that is used in the manufacturing of parenteral (injectable) drugs with water as the solvent.WFI is highly purified water that contains less than 10 CFU/100 ml of aerobic bacteria. USP mandates that this kind of water should have less than 500 ppb of total organic carbon, fewer than 0.25 EU/ml endotoxins and a conductivity of less than 1.3 uS/cm at 25°C. It is also used as the final rinsing agent for any component that has come in contact with the drug including vials, ampules, caps and stoppers.It is prepared through a series of steps aimed at removing ionic and organic contaminants with the final steps being distillation or reverse osmosis. It is usually done in 3 phases – phase 1 is where we monitor the complete location for 14 days, phase 2 is also for 14 days and phase 3 is for 1 year to address the seasonal variation. We need to store and transport WFI using ultra-high purity process equipment.
---
Team Microlit: Do you use Microlit instruments? If yes, which ones and for what purpose?
Mr Reddy: We use Microlit Ultimus Bottle Top Dispenser for media dispensing and Microlit Electronic Micropipette for BET analysis.
---
Team Microlit: Which feature of Microlit Ultimus has benefitted you the most?
Mr Reddy: The feature that has been the most useful for us is the dual inlet feature of Microlit Ultimus. Honestly, that is the main reason we procured it. The dual inlet feature has especially benefited us by enabling us to use two solutions at once.
---
Team Microlit: Can you please tell us something more about media dispensing and how Microlit Ultimus is used for that?
Mr Reddy: People in the industry are now moving towards ready-to-use media. We are also doing the same. For media dispensing, we use peptone water. When we wish to dispense, we prepare in bulk – 5 litres and 10 litres – and then dispense 100 ml at a time, while prioritising the accuracy of volume. In order to do this easily, we use Microlit Ultimus. It also offers high convenience when we have to dispense media into narrow-bodied bottles.
---
Team Microlit: Thank you so much for your time, Mr Reddy. Would you like to give a message to young researchers/scientists?
Mr Reddy: Yes, thank you. My message to the young researchers and budding scientists is that you should focus on the issues that are prevalent. Keep looking for ways on how you can reduce the sampling time and work at a faster pace.