Mr Radjagobal on Ensuring Quality Excellence at Aurobindo Pharma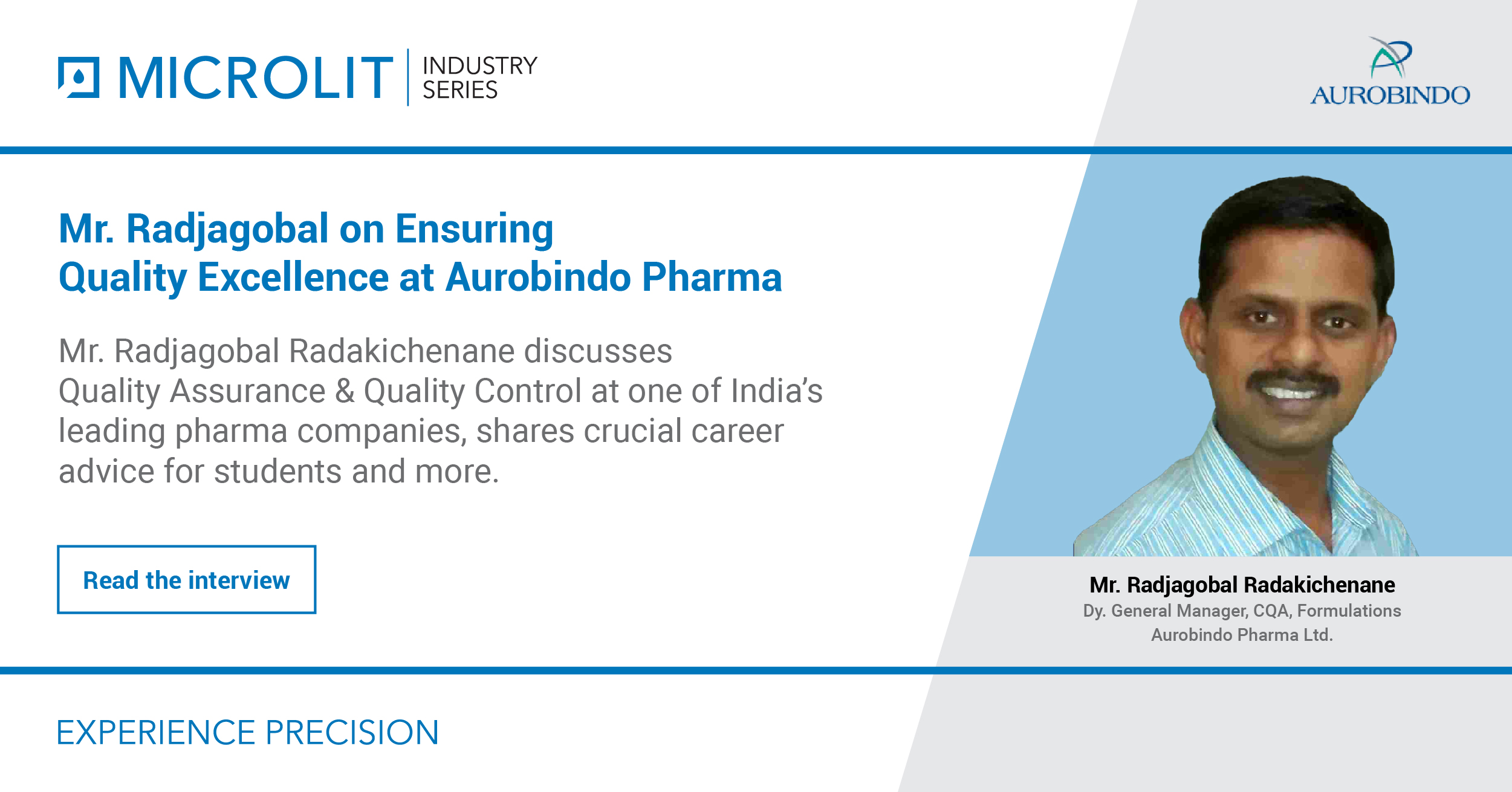 We interacted with Mr Radjagobal Radakichenane, Dy. General Manager, Corporate Quality Assurance, Formulations at Aurobindo Pharma for an engaging conversation around his role & responsibilities, the milestone projects of his career and his rich experience in the pharma industry.
Established in 1986, Aurobindo Pharma is one of India's top pharma companies. It was founded with the vision and the aim to become the most valued pharma partner to the world pharma fraternity. The company commenced operations in 1988-89 with a single unit manufacturing Semi-Synthetic Penicillin (SSP) at Pondicherry (now Puducherry), India. Today, it has a strong presence in key therapeutic segments such as neurosciences (CNS), cardiovascular (CVS), anti-retroviral, anti-diabetics, gastroenterology and antibiotics.
Team Microlit: Mr Radjagobal, it's a pleasure to converse with you today. Let's start with a short discussion about your role at Aurobindo Pharma.
Mr Radjagobal: Nice to speak with you too. I am Dy. General Manager, Corporate Quality Assurance, Formulations at Aurobindo Pharma. My main role is to ensure that every practice carried out in the lab adheres to the laid-down protocols and in case of any hindrance, I provide technical guidance to the team.
---
Team Microlit: What does a normal working day at Aurobindo Pharma look like for you?
Mr Radjagobal: Many manufacturing units of our organisation come under my supervision. As and when they require, my typical day is spent providing technical guidance to them.
---
Team Microlit: What motivated you to enter the pharma industry?
Mr Radjagobal: What mainly attracted me to this particular field and position was the fact that I got the best of both worlds – science and technology. (Smiles)
---
Team Microlit: That's true! So Mr Radjagobal, have there been any milestone projects here at Aurobindo Pharma of which you were a part of?
Mr Radjagobal: Yes, there have been quite a few. I've been able to streamline the OOS (Out of Specification) investigation process, reduce the invalid OOS and helped reduce laboratory errors.
---
Team Microlit: Interesting. Can you share how a key project of yours had an impact on the pharmaceutical industry?
Mr Radjagobal: Well, I won't say that the work I've done so far has had a direct impact on the pharmaceutical industry as a whole. However, the companies in which I've worked, I've tried to streamline the processes and reduce the occurrence of laboratory errors. This has been significant to the companies and naturally the customer base. I've also helped reduce the cost of certain projects.
---
Team Microlit: Wow, that's impressive. We'd like to know more about the kind of lab instruments you usually use in your studies.
Mr Radjagobal: We use a variety of lab instruments to carry out our studies. Some of them are HPLC, GC, auto titrators and repetitive pipettes.
---
Team Microlit: Do you use any Microlit instruments in your laboratory? If yes, can you share with us the purpose/experiment for which these instruments are being used by you?
Mr Radjagobal: See, my role is that of a consultant so I suggest various products that should be used in a laboratory, like electronic micropipette, electronic dispenser and electronic burette. To ensure high efficiency and maximise productivity, all products are procured from trusted partners, and Microlit is one of them. I'm satisfied with the quality and service of the products that we've used so far.
---
Team Microlit: What would be your message for the younger generation looking for a career in the pharmaceutical industry?
Mr Radjagobal: I strongly suggest that if someone is determined to enter the pharmaceutical industry, they should go for a specific course rather than pursuing a generic course. By specializing in the skills that are required particularly in the pharmaceutical industry, one can go a long way.
I always emphasize that people should learn the fundamentals of an industry as that forms a strong base. This way, if you come across any problem, you'll be able to solve it easily and make a difference for your organisation as well as the industry.