Preanalytical Automation in the Clinical Lab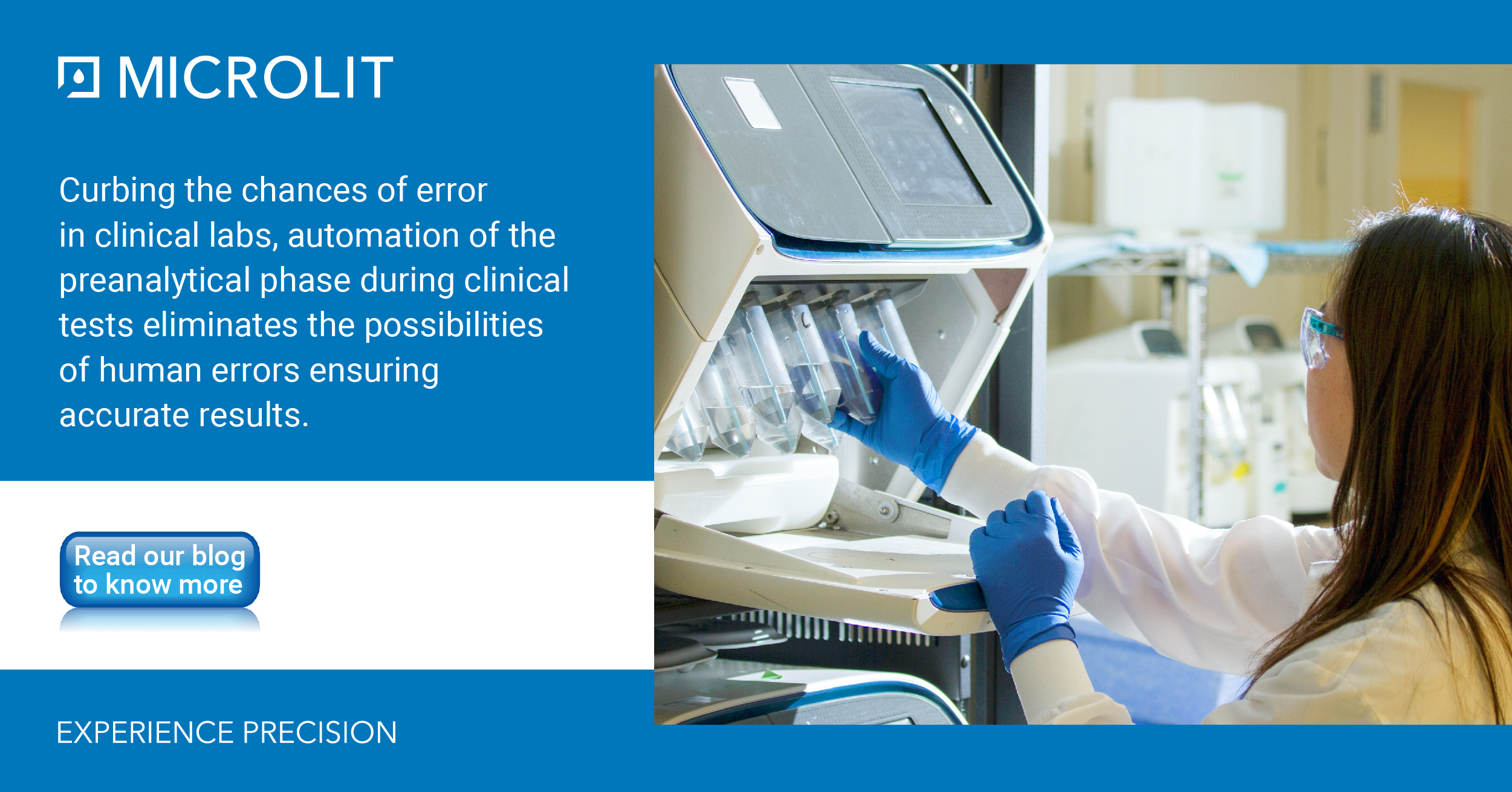 A clinical lab plays an instrumental role in providing healthcare services to patients. Doctors rely on accurate lab results of patients to correctly diagnose them and treat them accordingly. The blood testing process or the Total Testing Process, is divided into 3 phases – Preanalytical, Analytical and Postanalytical.
The preanalytical phase comprises test selection, patient and specimen identification, collection of sample, handling of sample, sorting out, pipetting and finally, centrifugation.
Preanalytical Phase – An Error Prone Phase
A tedious phase, the preanalytical phase is considered as the most error prone part of the Total Testing Process. It is known to be the biggest challenge faced by lab professionals to the numerous steps that occur both before and after the specimen reaches the lab.
Although all three phases are prone to errors, it is the preanalytical phase that accounts for 46% to 68% of errors during the Total Testing Process.
Common Errors Occuring in the Preanalytical Phase
Inappropriate Test Request
Order Entry
Mislabeling
Inappropriate Container, Handling, Storage, Transportation
Blood Culture Contamination
Preanalytical Automation in Clinical Labs – The Need of the Hour
The preanalytical phase, when done manually, is a time consuming process as the lab technicians have to be extremely careful with the whole process of collecting the sample, labeling it and transporting it, and yet there are high chances of samples being mixed or any other human error. Apart from human error, it is also to be kept in mind that certain samples can expose the technicians to infectious material which can be harmful.
Hence, preanalytical automation in the clinical labs is the solution.
Owing to minimal operator intervention the healthcare industry will benefit in numerous ways. Lab automation will help increase productivity by giving accurate results in less time. With all the data being stored in one place intra laboratory traceability of samples is made easy and efficient. All in all, the lab safety is maximised and errors minimised.
Preanalytical Automation in the Clinical Labs
Robotic Workstations
Specimen Labelers
Specimen Management System
Automated Phlebotomy Tray Preparation
Role of Automation in Infectious Disease Testing
Preanalytical automation in the clinical labs has become more important than ever. Since the COVID-19 pandemic a large number of samples is being tested everyday and accurate results are required in less time. And this would be an impossible task to complete if clinical labs are not automated.
Lab automation also enables technicians to store patient data and allows traceability of samples as well as of results. This adds an additional layer of safety to the reported results.
Preanalytical Automation Systems & Solutions for Clinical Labs
Various lab instrument organizations have manufactured complete ranges of automated systems for clinical labs. Immunoassay and molecular testing solutions across a broad spectrum of instruments have been designed to provide solutions for any size laboratory's infectious disease testing needs.
The molecular testing system enables the detection of major infectious diseases; monitoring of treatment efficacy; and selection of individualized treatment options. Certain real-time PCR products simultaneously detect viruses, bacteria, fungi, and parasites, allowing molecular laboratories to lower cost and drive better outcomes.
Fully Automated Immunoassay Platforms
A high-tech, fully automated immunoassay system has a comprehensive, disease-focused menu to deliver powerful productivity and efficiency, providing better medical information to clinicians.
Such human errors are a major cause for people's losing trust in the healthcare services.
Errors caused during the preanalytical phase have an adverse effect on patients. People lose trust in the lab, the healthcare services, and it also adds on to the cost of the hospital and the lab. Although completely eliminating errors is not possible, preanalytical automation in the clinical labs is a step towards safe and reliable testing and handling of samples. Labs with medium and high capacity should focus on automating their labs as manually handling large numbers of samples can surely result in human error.