Tests & Procedures conducted in QC Labs of Paint, Cement & Agrochemical Industries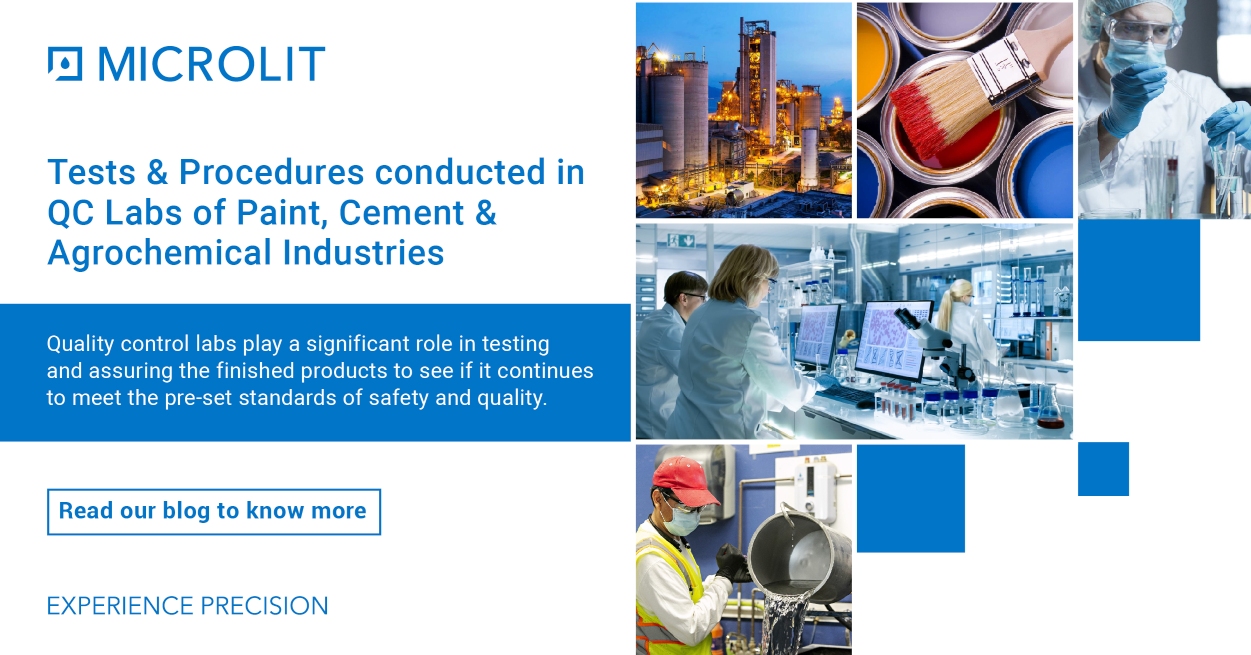 What happens in Quality Control Labs?
Quality control is a procedure/set of procedures carried out to ensure that a manufactured product/performed service adheres to a defined set of criteria/standard values (before, during and after manufacturing) to ensure customer satisfaction and conformance with statutory regulations. The raw materials, manufacturing process and finished products undergo stringent QC checks.
Laboratory quality control refers to the measures taken for maintaining the correctness, consistency and timeliness of lab findings by ensuring the early detection of results or measurement errors as well as the procedures for correcting them.
According to statutes and regulations, quality control for all major laboratory processes must be undertaken regularly using a recognised method. Laboratories must take steps to ensure that their liquid handling tools are accurate and precise to produce reliable results. For Example – Pipettes are used in lab testing operations to perform various volume-dependent contamination identification tests.
Tests/Processes conducted in QC Labs of Paint Industries
Paint manufacturers employ a wide range of quality control procedures.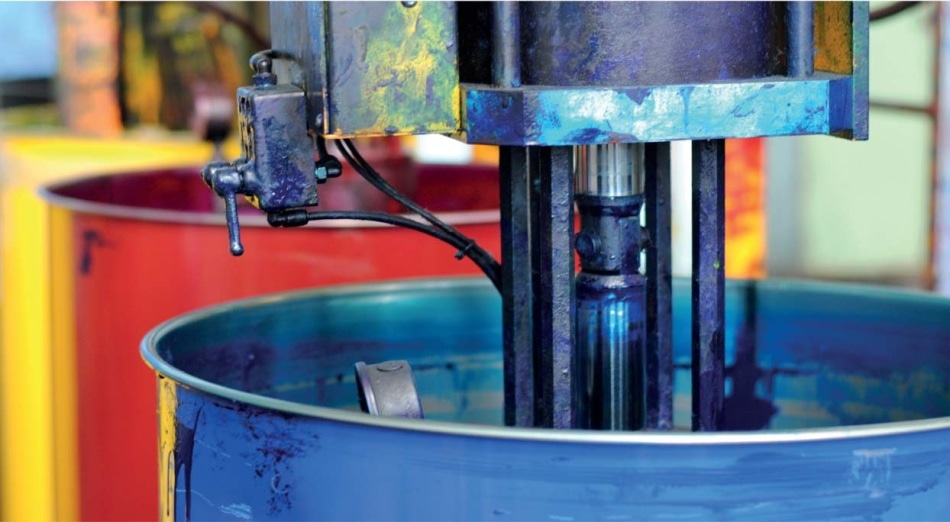 Titration of metal components in paint: Numerous metal components such as zinc, calcium, cobalt, etc are used as catalyst driers of paint. The metal composition determines the cost and performance of the paint.
Adhesion Testing: This test determines a coating's ability to withstand degradation caused by mechanical wear and tear from hard and abrasive objects. Surface-changing chemicals can help increase abrasion resistance.
Water Resistance Test: As water can cause coatings to degrade, knowing how a coating resists water will assist determine how well it will perform in actual service.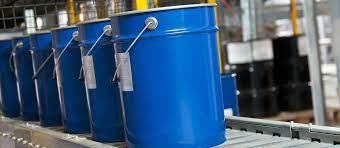 Precision sampling and seamless sample transfer are essential to carry out these activities correctly using micropipettes, bottle-top dispensers, e-Burette that offer a brilliant blend of mobility and precision.
Tests/Processes conducted in QC Labs of Cement industries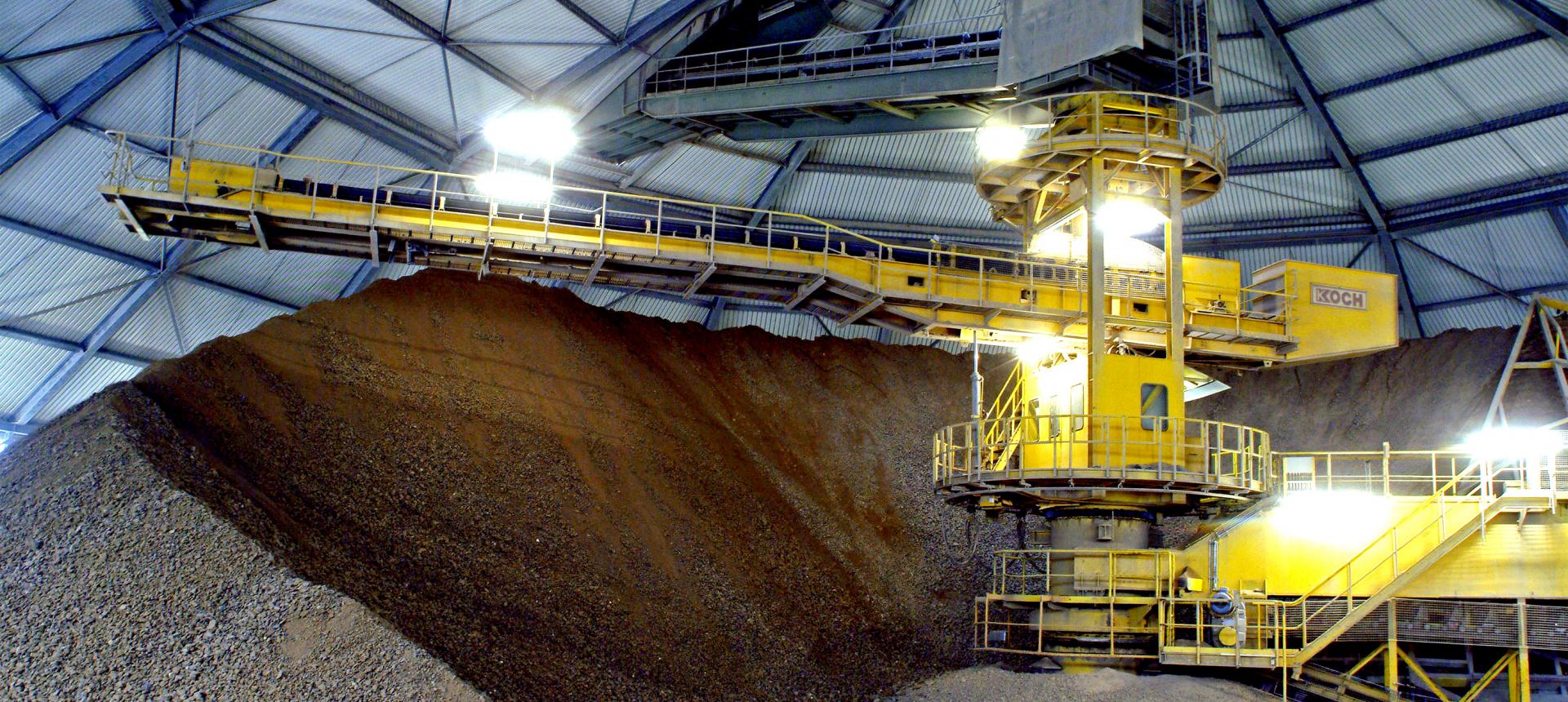 Cement is manufactured in a highly efficient and continuous process. It necessitates a thorough examination of relevant constituents in raw materials, intermediate process products and the finished product. Some elements, such as silicon and calcium, have higher concentrations as compared to iron and sulphur, which have lower concentrations.
Quality Tests on cement are carried out to check the strength and quality of the cement used in construction. It helps to identify the usage of cement for different purposes based on its durability and performance.
The following tests are conducted on cement in the laboratory are as follows:
 Fineness Test
 Consistency Test
 Setting Time Test
 Strength Test
 Soundness Test
 Heat of Hydration Test
 Tensile Strength Test
 Chemical Composition Test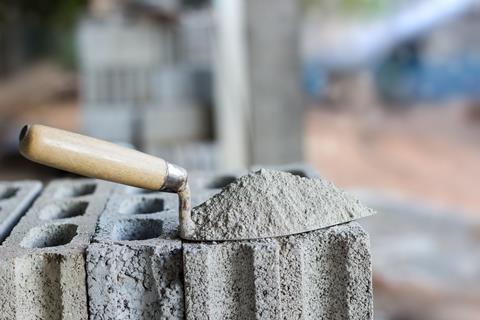 Optimum sampling and testing are required to ensure maximum quality and detect metal composition. Liquid handling instruments like burettes, dispensers and pipettes help in smooth sampling, testing and quality check. For example – Microlit's Scitus bottle top dispenser is used by Quality Control Manager of ACC Cement at Kymore (Katni) to check the moisture content (MC) for mortar preparation. Scitus is used to determine the water requirement as well as the consistency of fresh mortar for preparing ACC Cement.
Tests/Processes conducted in QC Labs of Agrochemical industries 
The agro-chemical industry is a key component of agriculture today. For agro-science enthusiasts, the agro-chemical industry today offers a wide spectrum of career opportunities from laboratory to farms. The agro-chemical industry is breaking new ground every day with new developments like introduction of green chemistries, introduction of plant breeding techniques, use of latest soil testing techniques and biological products.
Major essential equipments for testing agro-chemicals in a laboratory are as below:
Gas Chromatography (GC)
High Precision Liquid Chromatography (HPLC)
Particle Size Analyzer
Viscometer
Moisture Analyzer
Bacteriological Incubator
Karl Fisher
UV Photo Spectrometer
Fuming Chamber
Bursting Strength
COBB Tester
Soil testing: Soil testing is the process of conducting a series of tests to determine the quality of the soil. The quality of the soil is defined by both its physical and chemical properties, and the study and analysis of these properties is called soil testing. Soil testing informs about the various contaminants that might be polluting the soil. These pollutants are primarily released as residual waste from various industries. Through these tests, the composition of the soil can be also calculated which can help in guiding builders to construct safe buildings on a particular piece of land or for growing row crops, speciality crops, vegetable growers, etc.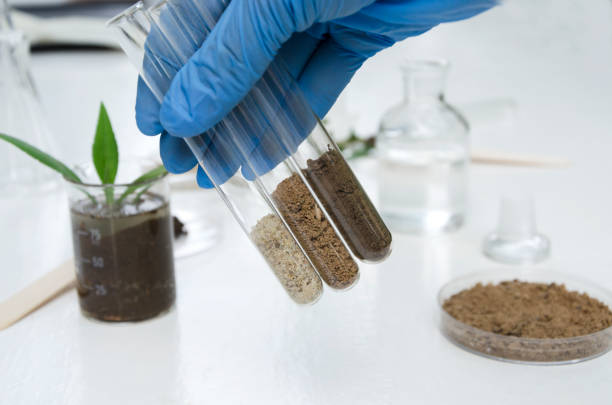 Through soil tests the following information can be estimated:
The PH level of the soil
The biodiversity and fertility of the soi
Type and the quality of lime required by the soil
The structural bearing capacity of the soil
The contaminants and pathogens present in the soil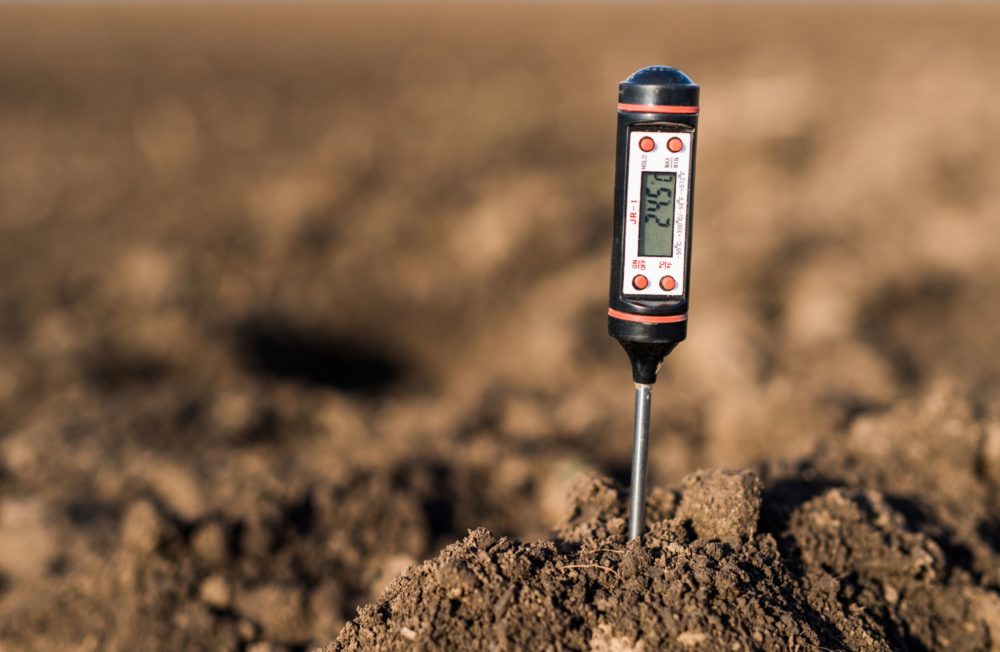 How to test soil quality?
When it comes to soil testing a lot of different parameters are tested. The different parameters and the tests employed to analyse them are as follows:
Gravity: The gravity of the soil is the ratio of the unit weight of soil solids to that of the water. The Density Bottle Method and Pycnometer Method are the common methods of testing gravity.
Water content in the soil: The water in the soil or its moisture content is calculated through the difference in the weight of the normal soil and its weight on drying.
Atterberg limits: This parameter tells about the critical water contents in the fine-grained soil. Based on this water content the soil may be classified as solid, semi-solid, plastic, or liquid.
The dry density of soil: The dry density of the soil is the ratio of the mass of solids to the total volume of the soil.
The Core cutter test is commonly employed to calculate this parameter.Equipment like bottle top dispensers and micropipettes help in performing accurate and precise soil tests.
Water testing: Water testing is becoming increasingly important for numerous reasons, including environmental protection, water contamination, consistent product quality, process optimization and safety. Industries frequently pollute our water systems with inorganic or chemical waste.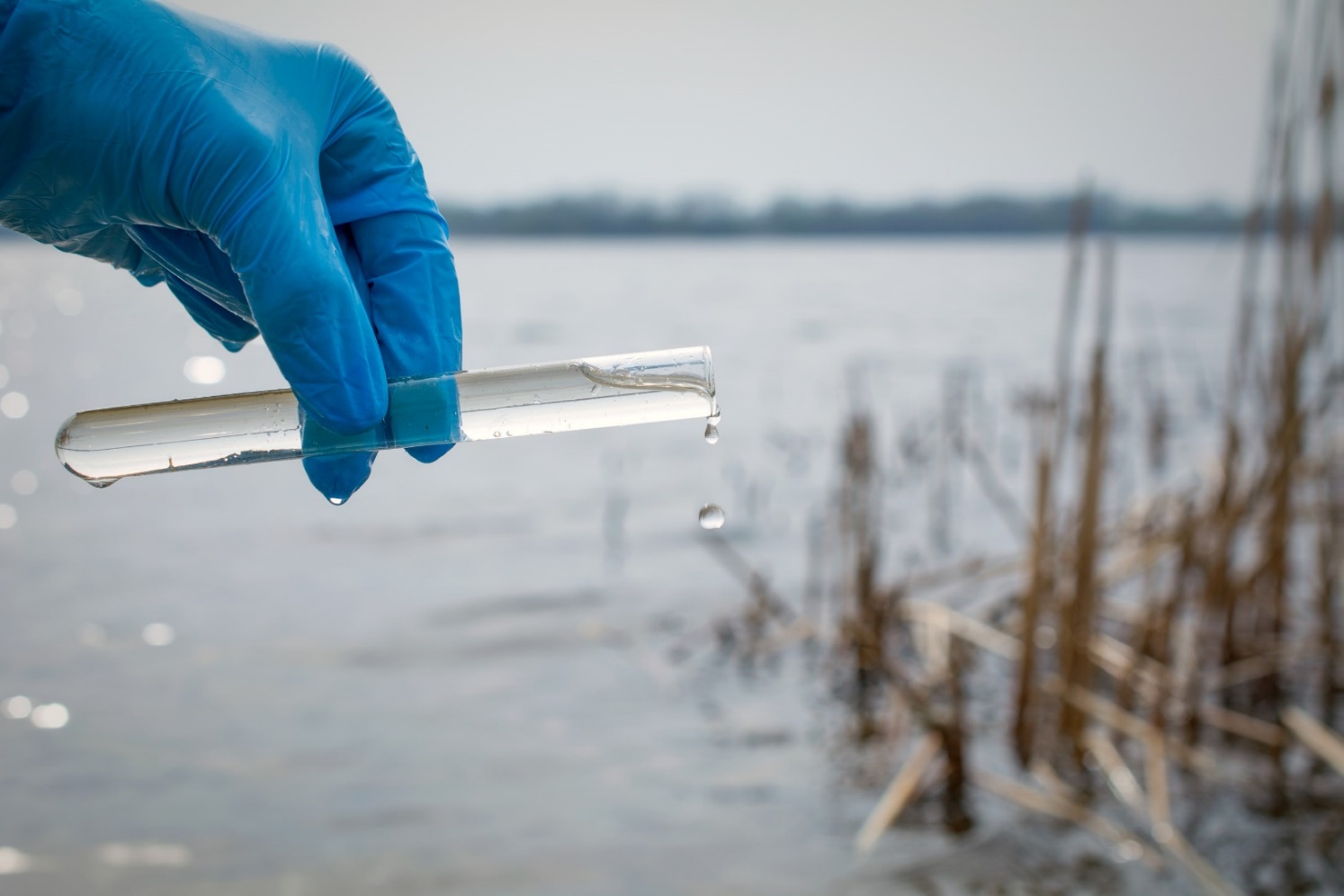 Liquid handling instruments such as the burette assist in performing precise titrations to determine the concentration (acidity or alkalinity) of industrial contaminants. For Example – The Quality Control Manager at SLMG Beverages Pvt. Ltd., Lucknow use Microlit's e-burette for titration purposes. The primary reason for using Microlit's product is to measure the level of acids present in juices due to the natural behaviour of fruits.
Pollution Monitoring: Pollution monitoring is a major step towards environmental protection. Following the identification of pollutants through titration, actions are taken to regulate and minimise them. E-Burette can be used to monitor air quality and pollution levels.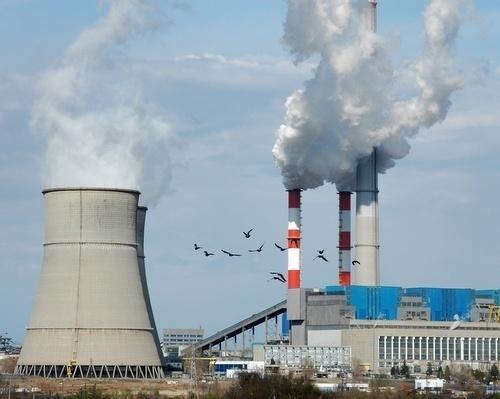 Over the years, we have emerged as industry's experts and cater to customers' needs in 65+ countries by designing and producing award-winning laboratory equipments. Through this trusted network, we are recognised as the most respected brand in the world of healthcare and the life science industry. Check out our huge range of products at www.microlit.com or email us at info@microlit.com for any query.