THE YEAR THAT WAS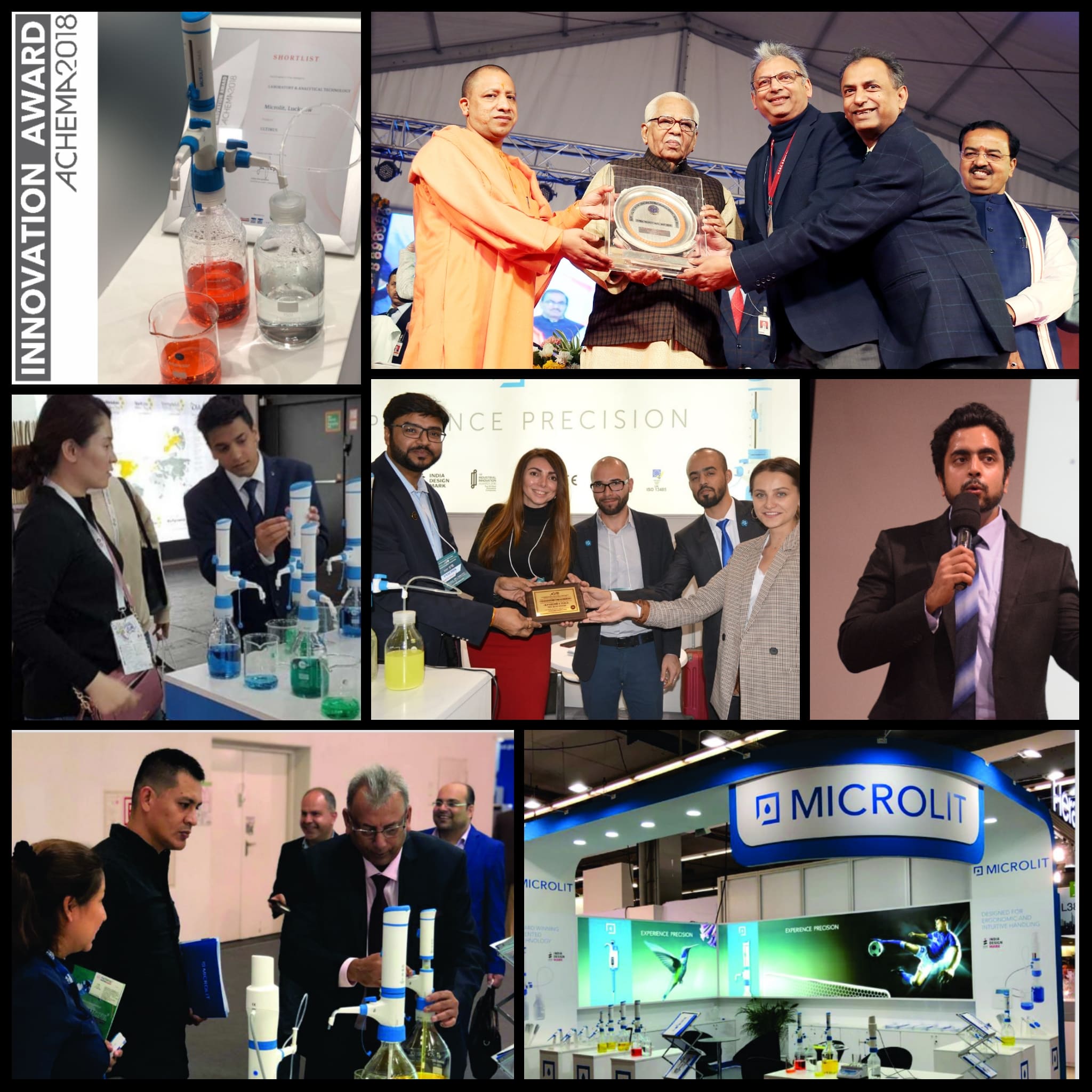 Bill Rodgers, the legendary long-distance runner and co-author of the book 'Marathon Man' once said, "To be a consistent winner means preparing not just one day, one month or even one year – but for a lifetime".
We have come a long way since our inception in 1991. Nurturing a passion for innovation and precision, MICROLIT is recognised as a respected and dependable brand in the healthcare and life sciences industry the world over. Today, our product range enjoys accreditation by a number of global organizations and worldwide credibility.
The year 2018 was a stupendous year for us. We received the UP Export Promotion award from the honorable chief minister Mr. Yogi Aditynanath and honorable governor Mr. Ram Naik. We were also shortlisted among the top 4 companies in the Achema Innovations Award held in Germany. In an international exhibition in Ukraine, Microlit's excellent presentation and booth designing was appreciated with the best booth design award.
We also launched a new brand identity with the spirit to serve our customers to the best of our abilities and offer solutions infused with business innovation. Our active participation in a number of national and international events and exhibitions saw us meeting new people, connecting with our old clients and enhancing our reach and brand awareness globally.
Here's an account of the year that was:
1. Genvision
24 Mar 2018 | IIT Bombay
This year, the Department of Biosciences and Bioengineering at the Indian Institute of Technology (IIT)Bombay hosted its technical fest 'Genvision' to showcase the latest developments in the field of Biosciences and Bioengineering.
We participated in Genvision 2018 in March 2018 and were honoured to be associated with it as a major sponsor.
Mr. Aviral Jain, Global Marketing Head,Microlit was cordially invited by the Symbiotek Council to conduct an industrial talk. In his speech, Mr. Jain offered an insight on 'Innovations & Research in Liquid Handling Systems'.
He, along with other faculty members, also visited the laboratories of the Biosciences and Bioengineering Department of IIT Bombay.
2. ACHEMA 
11 – 15 Jun, 2018 | Frankfurt am Main, Germany
ACHEMA is the World Forum for chemical engineering and the process industry. It is a trend-setting meeting point for international experts and executives.
We participated in ACHEMA in June 2018, where one of our high precision liquid handling instruments, MICROLIT ULTIMUS, was shortlisted for an innovation award in the 'Laboratory and Analytical Engineering' category.
MICROLIT ULTIMUS is a Bottle Top Dispenser (BTD) that offers a sophisticated blend of features and functionality. Built by our in-house team of product design engineers, it uses Dual Inlet™, an award- winning technology patented in India, the EU and the US.
3. Analytica Anacon India and India Lab Expo
6 – 8 Sep, 2018 | Hyderabad, AP, India
analytica Anacon India and India Lab Expo is the international trade fair for Laboratory Technology, Analysis, Biotechnology and Diagnostics.
We participated in the 12th edition of analytica Anacon India and India Lab Expo, jointly held with PHARMA Pro & Pack Expo, in Sep 2018. The trade fair trio welcomed 9641 visitors from pharmaceuticals, chemicals, food processing, R&D among other segments to explore the latest innovations showcased by 261 exhibitors from the laboratory technology, analysis, biotechnology, diagnostics, pharma packaging and processing.
We exhibited our entire range of high precision liquid handling instruments – Bottle Top Dispensers, Electronic Burettes, Micropipettes, Miniature Micropipettes and Electronic Pipette Filling Instruments including accessories like Stands and Tips for Micropipettes – and received good footfall and high appreciation.
4. Analytica China
31 Oct to 2 Nov, 2018 | Shanghai, China
analytica China is the International trade fair for laboratory technology, analysis and biotechnology in China. Its unique exhibition profile unites all topics that pertain to modern analysis in research and industry.
We participated inanalytica China between 31 Oct and 2Nov, 2018. We introduced the guests to our range of high precision liquid handling instruments offering great accuracy in Biotechnology and Diagnostics lab(s).
We successfully piqued their interest and educated the audience on India's contribution to Biotechnology and Diagnostics equipment.
5. MEDICA
12 Nov to 15 Nov 2018 | Düsseldorf, Germany
MEDICA is the leading international trade fair for the medical sector.
We participated in MEDICA between 12 Nov and 15 Nov, 2018. As much as 5,273 exhibitors from 66 countries showcased their solutions to around 120,000 visitors from 155 countries in the four-day event.
Our participation in the fair was appreciated by the guests, where our new product Lilpet and Lilpet Pro were also showcased. We recorded a substantial footfall and made a positive impression while showcasing and sharing our innovations with the visitors and other exhibitors.
6. Lab Complex
17-19 October, 2018 | Kiev, Ukraine
Lab Complex is an international specialized exhibition & forum for the laboratory industry in Ukraine.
Lab Complex comprises the whole range of equipment, technologies and specialized furniture, supplies as well as range of services for creation, equipping, modernization of all types and kinds of laboratories of various industries, scientific research field and medicine.
We participated in the event between 17 and 19 October, 2018 and are delighted to have received the Best Booth Design Award.
In addition to the above, we also participated in the following coveted events:
Arab Lab, Dubai UAE – 18-21 March, 2018
Analytica, Munich Germany – 10-13 April, 2018
Asia Labex, Chennai – 19-21 April, 2018
India Lab Expo, Mumbai – 25-26 April, 2018
LabTek World, Bangalore – 5-7 July, 2018
India Lab Expo, Hyderabad – 6-8 September, 2018
Asia Labex, Ahmedabad – 27-29 September, 2018
Lab Complex, Kiev Ukraine – 17-19 October, 2018
To find more about our products and services, browse our website www.microlit.com