Top 5 Healthcare Policies in US and India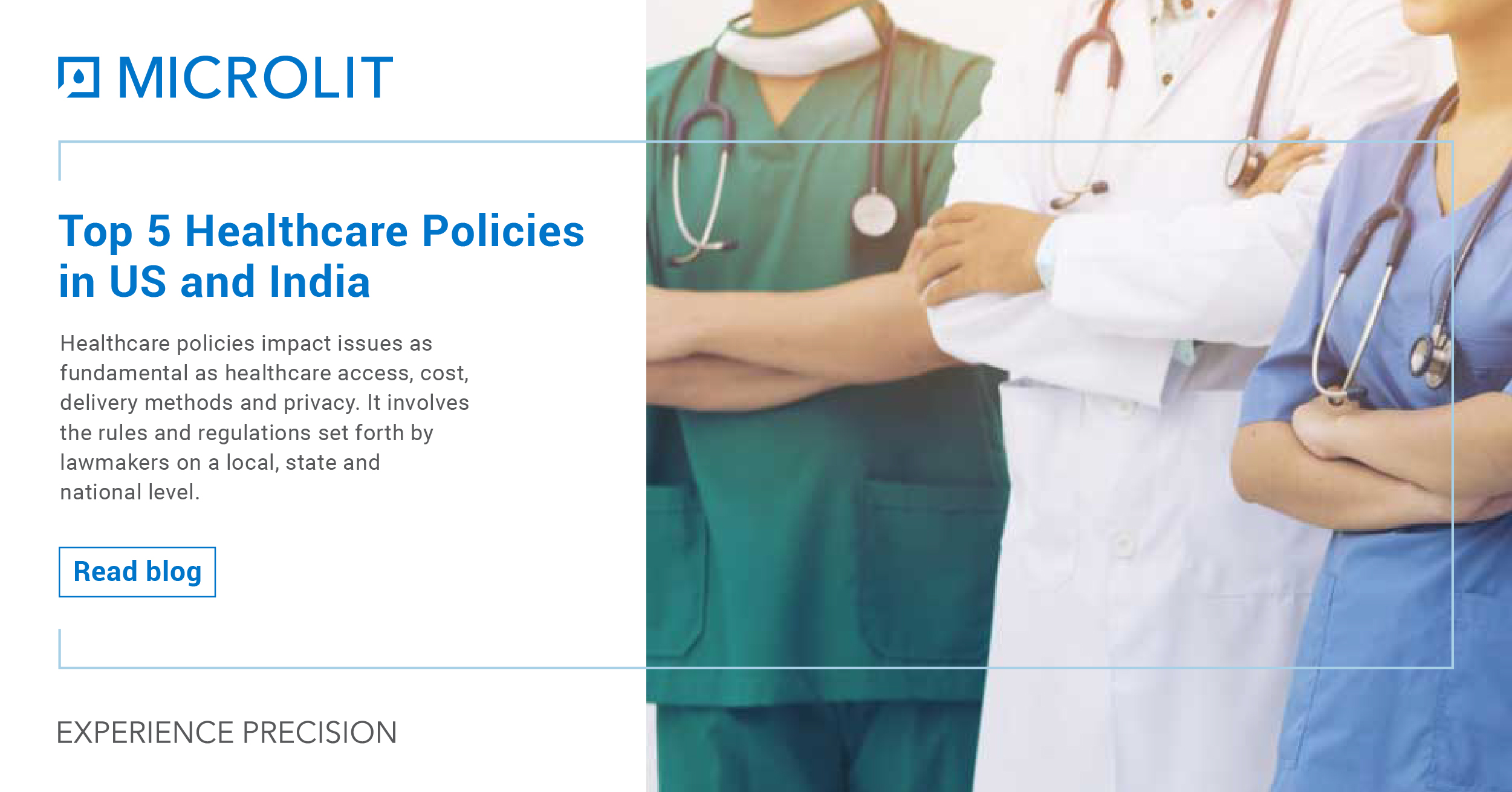 Healthcare policies refer to goals, decisions, and actions for administering and accessing healthcare, including the cost of treatment and insurance coverage.
What is Healthcare Policy?
Healthcare policy is an integral aspect of the healthcare system—one that helps shape and protect the health and well-being of our population. Policy impacts issues as fundamental as healthcare access, cost, delivery methods, and privacy. It involves the rules and regulations set forth by lawmakers on a local, state and national level.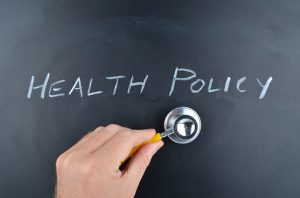 Importance of Healthcare Policies
Healthcare policies help establish guidelines for the benefit of healthcare organizations, patients, and the healthcare system with the help of protocols prevent poor communication and human error. Healthcare professionals need to understand and follow healthcare policies while utilizing their knowledge to provide the best healthcare to patients.
Top 5 Healthcare Policies in the US
Patient-care policies: These policies include protocols and workflow for treatment procedures, outlining how healthcare professionals should respond to specific medical situations. Examples include Medicare and Medicaid policies established by the Social Security Amendments of 1965.
Drug policies: These policies outline procedures for handling and administering pharmaceuticals, whether the medication is over-the-counter, controlled or non-controlled. It includes protocols to record, handle and deliver each medication and covers what to do if any inventory is not present or missing, if a medication is incorrectly administered or prescribed, or if any other errors occur related to drug handling.
Security policies: Security policies state how employees should handle situations that pose a security threat in their facility. This includes situations like abuse towards medical staff, patient abductions or elopements, theft, and active shooters.
Privacy policies: Apart from physical security, data privacy and technology security are extremely important in any healthcare facility. The HIPAA Privacy Rule protects patient information from being released publicly while permitting the exchange of this information if needed between medical professionals and in certain other situations. HIPAA non-compliance can lead to hefty fines for the organization involved in the data privacy breach.
Employee health policies: The health of employees is crucial for running an effective facility, as staff must be able to care for patients safely while maintaining their well-being. Policies for promoting employee health include rules related to the consumption of alcohol and tobacco in the workplace, wearing masks and gloves to minimize the risk of exposure to illnesses and chemicals, and wellness policies such as time off, healthy eating, and sleeping.
Major issues faced by the US healthcare system
Access to healthcare coverage – Increasing the number of insured individuals has been the focus of many policymakers. The Affordable Care Act, implemented in 2010, played a major role in increasing the number of insured Americans. Although the percentage of uninsured individuals has decreased, policymakers have diverging viewpoints around this issue. Some policymakers are pushing for higher participation in employer-provided coverage, while others are advocating for Medicare for all.
Social barriers affecting population health – Addressing issues related to the socio-economic conditions in America's communities can help improve the overall health of individuals in these populations. Some public health clinics and non-profits are working to provide wellness counselling and other services to people beyond just medical needs. This includes access to healthy food, affordable housing, transportation, childcare services, education, and more. A healthy population leads to better outcomes and more affordable care for all.
Healthcare costs and affordability – Even with health insurance, many individuals still face overwhelmingly high out-of-pocket healthcare costs. In the wake of the COVID-19 pandemic, it has become even more imperative for lawmakers to find an affordable solution for Americans. To address these high costs, policymakers have discussed finding a way to lower prices without compromising the quality of the services and care provided. Some solutions include significantly reducing prescription drug prices or allowing policymakers to regulate healthcare prices. Introducing government-run, public insurance options that pay lower prices than private providers is also another option that's periodically on the table.
Top 5 Government Health Insurance Policies in India
1. Ayushman Bharat Yojana: This scheme was initiated based on National Health Policy recommendations. It keeps in mind Universal Health Coverage (UHC). In India, health services are largely segmented while Ayushman Bharat Yojana aims for making them comprehensive. It looks at the health sector as a whole while ensuring continuous care for Indians. The components include Health and Wellness Centres (HWC) and Pradhan Mantri Jan Arogya Yojana (PM-JAY). This scheme is for the poor and offers a health cover of Rs. 5 lakhs per family annually and the payable premium is Rs. 30.
2. Awaz Health Insurance Scheme: It provides health insurance coverage to migrant workers and is initiated by the Government of Kerala. It also offers insurance for death by accident for labourers. It was launched in the year 2017 and targeted 5 lakh inter-state migrant labourers working in the state of Kerala. It offered health insurance coverage of Rs. 15000, and a death cover of Rs. 2 lakhs. It is for people from 18 to 60 years of age. They shall be provided with the Awaz Health Insurance card, post submitting and processing enrolment details about biometrics and other work-related documents.
3. Aam Aadmi Bima Yojana: This scheme is for people in vocations such as Fishing, Carpentry, Handloom weaving, etc, or among the 48 mentioned vocations. The premium to be paid for Rs. 30000 insurance policy is Rs. 200 per year. The eligibility criteria are that one should be a family head or an earning member of one's family and should be performing one of the 48 mentioned vocations.
4. Bhamashah Swasthya Bima Yojana: Initiated by the Rajasthan Government to support insurance coverage for its citizens. It provides cashless claims for the rural population of Rajasthan. There is no prescribed age limit for availing of the benefits. People who are a part of the National Food Security Act (NFSA) and the Rashtriya Swasthya Bima Yojana (RSBY) are also qualified for this insurance policy. It covers hospitalization expenses for general and critical illnesses taking into account both in-patient and out-patient expenses.
5. Central Government Health Scheme (CGHS): Initiated by the Central Government of India. All Central Government employees are eligible for this policy like Supreme Court judges, Certain Railway Board employees, etc. This policy has been active for the past six decades and has covered more than 35 lakh employees and pensioners. Hospitalization, as well as domiciliary care, are covered as per the CHGS. It covers Allopathy and Homeopathy as well. It is available in 71 cities and the plans are on to expand the scope to more areas.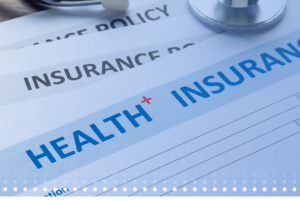 Benefits of Government Healthcare Insurance policies include:
Policies are offered at a low price.
Encourages people below the poverty line to avail of insurance.
Ensures the poor people have some sort of insurance coverage.
The government-initiated policies help policyholders to feel assured.
Conclusion
Healthcare policies are important to make decisions related to administering and accessing healthcare for patient benefit and preventing human error. There are various issues related to healthcare policies that need to be addressed such as healthcare cost and affordability. For this, various countries have come up with national healthcare policies to standardize the procedure related to healthcare accessibility and healthcare administration. In the US, there are healthcare policies related to patient care, drugs, security, privacy, and employee health. In India, the top 5 policies are related to Government health insurance policies for the general public and poor people at low prices so that people can avail its benefits.